Press release
Formal caution for moving pike in Lincolnshire
The Environment Agency has formally cautioned a man for illegally moving fish in Lincolnshire.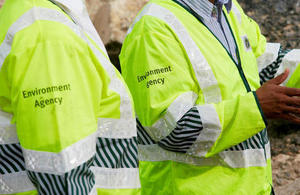 A Lincolnshire man who illegally moved fish has been given a formal caution by the Environment Agency.
Anthony Bostock of Rowan Close, Sleaford, knowingly committed the offence when he put pike back into the water at a different location to where he had found it.
Mr Bostock had found the fish in Langdale Lakes in Langworth, Lincoln – a fishing lake he owned at the time of the offence on 10 March 2016.
And because he feared the pike would eat the other fish in his lake – affecting his livelihood – he illegally released it into the Barlings Eau, a small river and tributary of the Witham.
But the movement of all fish, fry and eggs to and from rivers, canals, drains and stillwaters is strictly regulated by the Environment Agency and requires a permit. To move them without authorisation can be harmful to natural habitats and wildlife – and is against the law.
Enforcement officers from the Environment Agency found Mr Bostock's actions to be financially motivated and without consideration for the health of the Barlings Eau and the other fish in it.
Emma Ayers, environmental crime officer at the Environment Agency, said:
Our native fish are a valuable and essential part of our environment and heritage. It is in the interests of everybody to prevent illegal movements.

All movements must be authorised by the appropriate permit and you may also need a Fish Health Check to confirm that they are healthy and free from disease. These safeguards protect our native watercourses.

In this case, there was no regard for the health of the fish or the receiving watercourse. Our decision to caution Mr Bostock reflects the seriousness of the offence.

We'd like to remind people that to move or stock fish requires having the correct permits – and we will take action against those that don't.
Mr Bostock confirmed in an interview under caution on 19 July 2016 that he understood the need to have a permit and has always applied for one before. This was taken into consideration, along with Mr Bostock's lack of previous convictions and his co-operation with the investigation.
He signed and accepted the caution on 11 November 2016 as an alternative to prosecution. A record will now be kept of the caution, which may be used in court should Mr Bostock be found guilty of a further offence.
More information on permissions to move live fish to or from a fishery is available online on our website.
Notes to editors:
The Environment Agency is the leading organisation for protecting and improving the environment in England. We are responsible for making sure that air, land and water are looked after by today's society, so that tomorrow's generations inherit a cleaner, healthier world.

Anthony Bostock committed the offence on 10 March 2016 under Regulation 4(a) of The Keeping and Introduction of Fish (England and River Esk Catchment Area) Regulations 2015, by introducing fish to an inland water unless it is under and in accordance with a permit granted by the Environment Agency under Regulation 6 of The Keeping and Introduction of Fish (England and River Esk Catchment Area) Regulations 2015. He was interviewed under caution on 19 July 2016 and signed and accepted the caution on 11 November 2016.

To carry out this activity legally, Mr Bostock would have needed to secure a Fisheries Supply Permit. The Barling's Eau, as the receiving water, should also have been issued with a site permit. As part of the Fisheries Supply Permit, a Fish Health Check, carried out by an approved fish health consultant, would have been required to protect fish in fisheries and in the wild from harmful diseases and parasites, because the receiving water is a river.

Langdale Lakes is now under new ownership.
Published 24 November 2016