World news story
Foreign Service COO strengthens links between diplomats
Matthew Rycroft, the FCO's COO is visiting Laos to share information about the UK's foreign policy approach with Lao diplomats.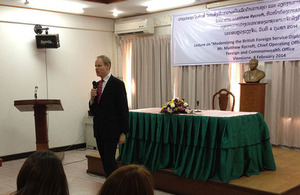 Matthew Rycroft, one of the UK's top diplomats and Chief Operating Officer of the UK's Foreign and Commonwealth Office (FCO) is visiting Laos this week to meet Lao colleagues and share information with the Lao diplomatic community about the UK's foreign policy approach, and strengthen links between both countries' diplomatic services.
On his first official visit to the Lao PDR, Mr. Rycroft met a range of Ministry of Foreign Affairs officials, including Lao diplomats designated to open a Lao diplomatic mission in the UK later this year. He shared experiences with them about the process of the opening of the British Embassy in Vientiane in 2012 and discussed strategies of further diplomatic cooperation between the two countries with colleagues from the Lao Ministry of Foreign Affairs.
Addressing an audience of 80 Lao diplomats at the Foreign Affairs Institute, Mr Rycroft outlined the FCO's efforts to ensure the UK's interests are represented globally. His speech, entitled Modernising the British Foreign Service: Diplomatic Excellence focused on the FCO's ambitious "Diplomatic Excellence" strategy aiming to modernise the organisation and build it into the best diplomatic service in the world by 2015. The highlights of this programme include a new language centre with 30 classrooms enabling 1000 students to be trained annually, a new Expertise Fund to deepen thematic and geographical policy expertise, the use of new technologies such as social media to deliver high-quality results as well as the creation of new international alliances.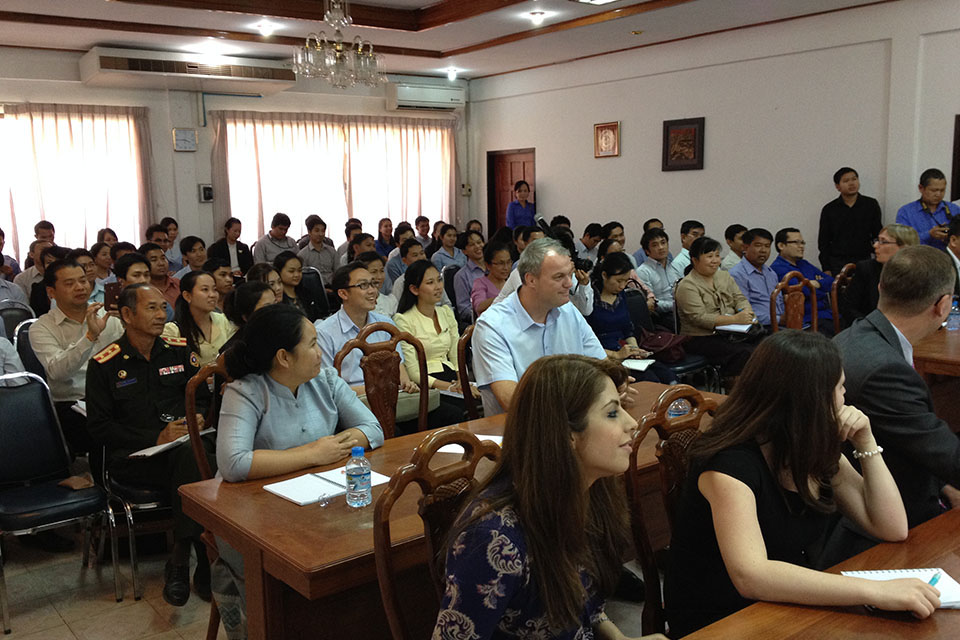 Mr Rycroft's visit aims to share new ideas about public service reforms with the Lao Government, outline how public institutions in the UK work and meet some of the Lao colleagues the FCO will be working with in the future in their role as Lao diplomats in the UK. The Lao government plans to re-open its Embassy in London later this year after an almost 30 year hiatus.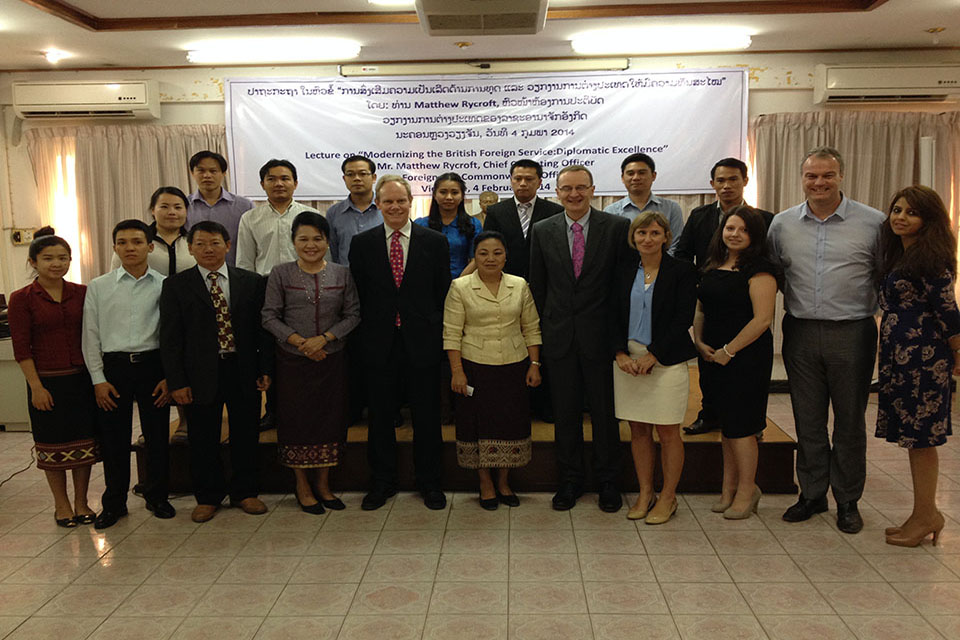 Published 5 February 2014