World news story
Foreign Secretary delivers message at Queen's Birthday Party
British Foreign Secretary delivers a video message at the first Queen's Birthday Party in Vientiane following the re-opening of the Embassy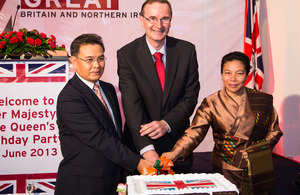 On the occasion of the first Queen's Birthday Party in Vientiane following the re-opening of the British Embassy in Laos in November 2012, British Foreign Secretary William Hague delivered a personal video message to the Lao government and the British community in Laos.
The Foreign Secretary recalled his visit to Vientiane in November 2012 at the time of the ASEM Summit and his own personal role in realising the re-opening of a British Embassy in Laos after an absence of 27 years.
He congratulated the British community's contribution to UK-Laos relations in a broad range of fields:
I pay tribute to the British community in Laos for the work that you do in education, in development, in business, promoting the links between our countries. I know from having met some of you how much you enjoy doing that, how dedicated you are not only to our country, but to your host country as well, and I hope you continue with this work in the years ahead
He particularly highlighted the UK's contribution to the clearance of Unexploded Ordinance (UXO) in Laos, amounting to around 6 million square metres of land cleared directly benefitting around a third of a million people, as well as co-operation to address child food poverty in southern Laos.
He also looked forward to the forthcoming re-opening of the Lao Embassy in London and a new era of reinvigorated relations between both countries. The UK is now one of only three EU countries (with France and Germany) to be represented in all ten ASEAN member states.
Further information
See the full video message here
You can also read a full transcript of Ambassador Philip Malone's welcoming address here
Published 28 June 2013