World news story
Food and drink trade mission brings best of Britain to India
UK delegation will meet local companies, explore the market opportunities and build lasting relationships in India.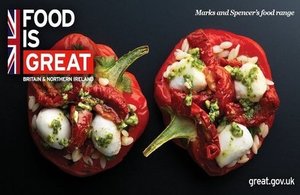 The UK's Department for International Trade (DIT) is bringing a delegation of 13 companies from the food and drink sector to India. The delegation will showcase the best of British brands and forge partnerships with like-minded Indian firms.
The mission is designed to grow and develop the local market's awareness of British whisky, gin, craft beer, meat, fish, gourmet food and drink, health food and dairy. The appetite for these products in the Indian market continues to expand.
The delegates will participate in an iconic food industry trade show - the 11th India Food Forum, 17 to 18 January, before travelling to Bengaluru to attend the British Food and Drinks Symposium on 19 January.
While in Mumbai the delegation will
participate in the India Food Forum
visit Nature's Basket for an exhibition and conference
attend the food service awards
Ian Wright, Director General, Food and Drink Federation said:
It gives me great pleasure to join with the DIT and Santander UK on to this vital trade mission. Food and drink is the UK's largest manufacturing sector and our delegation represents the diversity and excellence of our top-class industry.

The UK and India enjoy a vibrant and dynamic trading relationship, which is thriving as new opportunities unfold.

We are keen to strengthen existing ties, make new contacts, explore business opportunities and build prosperous and long-lasting commercial relationships. We look forward to meeting you during our visit and doing business with you in the near and long-term future.
In Mumbai, the delegation will meet with Amit Lohani of the Food and Drink Importers Association (FIFI) and a representative from Santander bank to discuss food and drink opportunities in India. They will also attend a networking reception at the British Deputy High Commissioner's residence.
Crispin Simon, British Deputy High Commissioner for Western India and the Director General of Department for International Trade, India and South Asia said:
We are excited to build upon the existing connection that India and the UK share for quality food and drink. As gourmet brands continue to grow and succeed in India, we are confident that there is room for some of the best UK products to be a part of that expanding appetite.

By bringing UK companies to India and facilitating face-to-face interactions, we aim to create an environment where relationships can be built. I am therefore delighted to be hosting an evening reception for the industry and delegates to meet.
On 19 January, the delegation will arrive in Bengaluru and take part in the 'British Food and Drinks Symposium', where UK companies will speak about their products, services and network with buyers and retailers in India's southern region. UK attendees will also have the opportunity to visit top gourmet and beverage producing sites, including the likes of Big Basket, Phoenix Market City, Amruth Distillery and UB city.
This delegations comes just 3 weeks before the India-UK Createch Summit in Mumbai on 6 February and is part of a wider month of interaction between the 2 countries, celebrating commercial and creative links.
Further information
Participating companies:
Agriculture and Horticulture Development Board
Amber Glen Scotch Whisky
Arbikie Highland Estate Distillery Ltd
DeVine Distillates Group Ltd
Delamere Dairy Ltd
DT&G Ltd
The English CheesecakeCompany Ltd
Iceland Foods Ltd
Greene King plc
Provenance Brands Ltd
St James Smokehouse (Scotland) Ltd
Trading World Ltd
The Hop Studio Ltd
The India-UK Createch Summit 2018 will be a one-day conference in Mumbai on 6 February, bringing together thought-leaders from business and government for a series of exclusive keynotes, panel sessions and workshops.
It is designed to celebrate and inspire the convergence of creativity and technology: Createch. The summit will be the centrepiece of a series of events promoting trade between the UK and India in January and February 2018, with a particular focus on creativity and technology.
Over 100 British companies from the film, music, immersive technology, healthcare, industrial design and sport sectors will visit India as part of a number of trade missions to meet leading Indian businesses to discuss opportunities for collaboration and trade between the countries.
Media
For media queries, please contact:
Stuart Adam, Head,
Press and Communications
British High Commission, Chanakyapuri, New Delhi 110021,
Tel: 24192100; Fax: 24192400

Mail to: Jagori Dhar
Follow us on Twitter, Facebook, Flickr, Storify, Eventbrite, Blogs, Youtube, Instagram, Snapchat @UKinIndia, Periscope @UKinIndia
Published 17 January 2018