News story
Flying high to the US
Mundell welcomes new direct air route from Scotland to New York.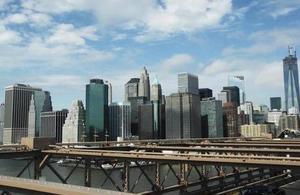 American Airlines will offer a new daily service between Edinburgh and New York's JFK airport from next May.
Welcoming the news, Scotland Office Minister David Mundell said:
This new direct route between Edinburgh and New York is good news for business and leisure travellers on both sides of the Atlantic.

Opening doors for Scottish business across the globe is vital and this new route will help enhance Scotland's economic growth. With a dozen diplomatic and trade posts in US cities from LA to New York, the strength of the UK's vast diplomatic and trade network across the United States means we are primed for opportunities that exist in one of the most highly competitive developed markets in the world.

Last year I visited the US and met with representatives from the US Senate, the US Chamber of Commerce and senior members of the US administration. This further highlighted the desire on both sides of the Atlantic for encouraging even more trade between our two countries. That is why this Government is very focused on the trade deals that can add to British growth.
Published 20 November 2014