World news story
Fletcher met Berri, called for avoiding a prolonged vacancy
British Ambassador to Lebanon Tom Fletcher met Speaker Berri, voiced his call for a responsible leadership to protect state and constitution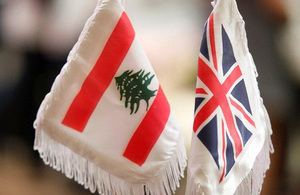 Following his meeting with Speaker Berri on Friday 23 May, UK Ambassador Tom Fletcher said:
"It is clear, sadly, that time is running out for parliament to elect a new President on time.
From the beginning of this process, we have judged that our role is to help remove any international obstacles to an agreement made in Lebanon, and this we have tried to do. The Lebanese people deserve their own President, and we want a partner with whom we can work to provide security, justice and opportunity.
We are now moving into a new phase. All those who claim leadership of the country have a responsibility to find ways to work together to avoid a prolonged vacancy. The national interest must come first. Our role remains to support that effort, while ensuring the continuity of our stabilisation and humanitarian effort.
If Sunday's deadline passes, it will be a setback for Lebanon, but the outcome is not a failure of the Lebanese people. They have our full support and solidarity".
Published 24 May 2014