World news story
Five Country Conference visa application centre opens in Singapore
The UK joined Australia and New Zealand to officially open a new shared visa application centre.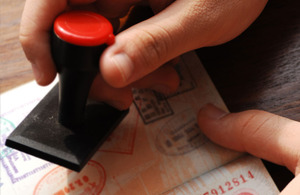 Today in Singapore, British High Commissioner Antony Phillipson and UK Border Agency Regional Director, Simon Peachey joined their Australian and New Zealand counterparts to officially open a new shared visa application centre.
The new visa application centre is a Five Country Conference (FCC) initiative under an agreement to share a global network of visa application centres. Canada also plans to join the facility at a later date.
British High Commissioner, Antony Phillipson said:
The use of shared visa application facilities will save us costs through shared infrastructure and resources and allow us to maintain the very high levels of service we provide to our customers in Singapore and continue to develop new premium products to meet their needs.
The FCC nations of the UK, Australia, New Zealand, Canada and the United States work together to enhance the integrity, security and efficiency of their immigration and border services and to improve client services and reduce costs.
The visa application centre will be operated by the UK's existing commercial partner in Singapore, VFS Global and, except for a new location; the process of applying for a UK visa will remain exactly the same for customers.
UK visa applications will continue to be sent to the UK Border Agency hub in Manila for processing by UK officials and returned to the visa application centre for collection.
The UK will also continue to offer a 3 working day priority visa service for customers who require a faster turn-around of their application, as well as other added value services such as SMS visa application tracking.
2012 processing times for non-settlement visas: 81% in 5 working days and 99% within 15 working days. (Our processing time standard for non-settlement visas is to process 90% within 15 working days).

The new shared visa application centre is located at:
20 Cecil Street,
#11-02/05 Equity Plaza
Singapore 049705

The new helpline number is +65 66929873 and the email remains as info.sing@vfshelpline.com
For further information on how to make a UK visa application in Singapore visit the UK Border Agency's Singapore web page
Published 25 March 2013