World news story
First UK India Business Centre opens in Gurgaon
The first UK India Business Centre opened in Gurgaon today. UK Minister for Trade & Investment, Lord Green flew in with a delegation of 11 British trade associations to launch the business centre.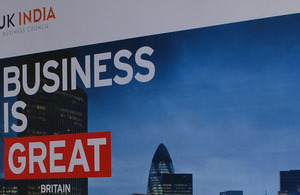 Lord Green, Chief Minister of Haryana, Shri Bhupindar Singh Hooda and UK India Business Council Chair Rt. Hon. Patricia Hewitt participated in a lamp lighting ceremony which was attended by leading UK and Indian businessmen and policy makers. The UK Trade and Investment (UKTI) and the British Business Groups (BBGs) support this initiative which will help British companies, especially small and medium- sized enterprises (SMEs), experience a low-risk, low-cost entry into India.
This is the first such centre to open in a major emerging market since PM Cameron's announcement in November that the UK would go ahead with an initiative designed by Lord Green to transform the support given to the UK business overseas.
Trade and Investment Minister Lord Green said:
I am delighted to be here today opening the very first UK India British Business Centre in Gurgaon.
This is an initiative which is very close to my heart. The centre will help UK small and medium sized businesses work closer with more established British businesses in India and provide them with the support needed to capitalise on the huge potential of the Indian market.
The network of centres across India will also drive a step change in the number of UK companies doing business in India contributing to prosperity in both countries.
Rt. Hon. Patricia Hewitt, Chair, UKIBC said:
I am delighted that we are opening the first of a planned network of six such Centres across India. It will be run by UKIBC in partnership with UKTI and the British Business Groups in India. Each Centre will provide meeting, training, networking and conference space alongside advice and other market entry services, with a particular emphasis on SMEs wanting to get into the Indian market for the first time.
Further Information:
UK India Business Centre: The Centre comprising 7,200 sq ft is located in Infinity Towers, Cyber City, Gurgaon and will act as the "hub" within the important North Central economic region in India. We also have a 600 sq ft "spoke" in Connaught Place, Central Delhi. The Centres are designed to transform the quantity and quality of support available to British businesses, especially SMEs, seeking to enter or expand in India.

UK India Business Council (UKIBC) is the premier business-led organisation promoting bilateral trade and investment between the two countries. Its mission is to facilitate an increase in trade between the UK and India through business to business dialogue. UKIBC plays an influential role in creating and sustaining an environment in which free-trade and investment flourishes. Through the facilitation of partnerships, and with an extensive network of influential corporate and individual members, UKIBC provides the resource, knowledge and infrastructure support vital for UK companies to make the most of emerging opportunities in India.

Trade delegates: The delegates include senior representatives, from the Aerospace Defence & Security Group (ADS), the Association of British Healthcare Industries (ABHI), the British Chamber of Commerce (BCC), British Expertise, the Engineering Industries Association (EIA), the Federation of Small Businesses (FSB), the Institute of Directors (IOD), the Institute of Export (IoE), the International Visual Communications Association (IVCA), the Royal Institution of Chartered Surveyors (RICS), and the Society of Motor Manufacturers and Traders (SMMT).

UK Trade & Investment (UKTI) is the Government Department that helps UK-based companies succeed in the global economy. We also help overseas companies bring their high quality investment to the UK's economy – acknowledged as Europe's best place from which to succeed in global business. UKTI offers expertise and contacts through its extensive network of specialists in the UK, and in British embassies and other diplomatic offices around the world. We provide companies with the tools they require to be competitive on the world stage.
Marcus Winsley, Director,
Press and Communications
British High Commission,
Chanakyapuri, New Delhi 110021
Tel: 44192100; Fax: 24192411

Mail to: Harleen.Sachdeva@fco.gov.uk
Follow us on Twitter, Facebook, Flickr, YouTube, LinkedIn, Storify, Eventbrite, Blogs, Foursqare
Published 19 September 2013