News story
First Minister must produce independence plan says Carmichael
Scottish Secretary says Scottish Government is 'duty bound' to produce a plan about how they would deal with independence.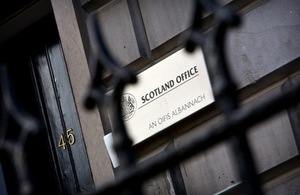 Scottish businesses are now making plans to mitigate the dangers of independence while Scotland's First Minister still has no plan to make independence work, Scottish Secretary Alistair Carmichael warned today.
The Secretary of State said that companies are now fulfilling their corporate duty by assessing and reporting the risks of independence. He predicted that more businesses would be duty bound to report on the risks of independence and that Mr Salmond was also 'duty bound to produce a plan for how he will deal with independence.'
When independent experts are called on to assess the situation – be they impartial civil servants or a company directors – Mr Carmichael said more and more often the case for independence was found wanting.
Mr Carmichael said that February had been 'the longest month' for Mr Salmond as businesses questioned his independence project and his proposal for a currency union had been ruled out.
The Financial Reporting Council has given the following guidance on addressing the issue of Scottish independence in company reporting:
The Companies Act and the Corporate Governance Code essentially require directors to set out the prospects for the business, highlighting principal risks. So if boards consider that a vote in favour of Scottish independence is a strategic issue or a principal risk, then disclosure should be made.
Scottish Secretary Alistair Carmichael said:
Businesses are duty bound by the Companies Act to consider and disclose the risks of independence as they see them. This is now happening and companies are drawing up plans to deal with the risks that independence presents to their business and their customers

February has been the longest month for the First Minster's independence project. Oil companies, banks, insurance giants, supermarkets and accountants have all lined up to raise questions about independence. Questions that have not been answered.

His assertion that an independent Scotland would have a currency union with the continuing UK have been rejected by all the main UK political parties for very good reasons. Reasons that have not been challenged. The First Minister now has no plan on currency and no plan for how independence would work.

I am sure that more companies will be obliged to report on the risks of independence in the weeks and months ahead. Alex Salmond is now duty bound to produce a plan for the people of Scotland on how he will deal with independence.

There is also a marked contrast between the tone and content of the expert analysis coming from different quarters and the way in which it is treated by the Scottish Government. Civil servants in HM Treasury offered impartial advice to Ministers setting out the dangers of a post-independence currency union for both Scotland and the continuing UK. Experts inside large Scottish financial companies have now reported on the risks of independence.

The civil servants and the financial analysts are not ganging up on independence. They are doing their job. While the Scottish Government might not like it there is a trend that where impartial experts are obliged to assess risks or offer advice the case for independence is found wanting.

Those advocating leaving the UK should be ashamed that there is more credible analysis of independence in company reports than in all the material they have produced thus far.
Published 28 February 2014