World news story
First meeting of the British Business Group in Laos
British businesses in Laos look to collaborate toward prosperous futures for both the UK and Laos.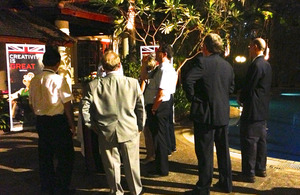 On the heels of the official opening ceremony on Tuesday 2 April, the British Embassy hosted the first meeting of the British Business Group on 3 April at Seha Palace Hotel.
The UK exported £3.3 million of products to the Lao PDR in 2012, whereas Laos exported more than £38.6 million of goods to the UK in the same year. Following Laos' WTO accession in February, 2013, many opportunities have opened up for foreign investment and business in Laos in all sectors particularly in education, infrastructure, design and architecture, garment manufacturing, foreign investment, and mining ‐ all areas where UK businesses typically excel.
The British Embassy in Vientiane endeavours to pursue potential opportunities for UK companies in Laos. This important step for Laos in joining the WTO paves the way for long-term economic growth and prosperity in the country. The reforms that WTO accession will engender the business climate for British companies operating in Laos.
Ambassador Philip Malone announced in his speech:
Our mission is to support British companies who are interested in operating or investing in Laos. Now that we have a resident embassy here we will be able to provide more advice and assistance in this area.
UK companies present in Laos include JCB, Land Rover, PwC, KPMG, Rio Tinto and Standard Chartered. In addition to these businesses and several others operating in Laos, many British nationals are contributing to various businesses in the country. For example, Paul Simcock at Vientiane Geomac Services, is working to develop a topographical map of the boom of the Mekong River to assist with navigation.
Ambassador Malone added:
Hundreds of others like Mr Simcock are working in all matter of capacities around Laos and promoting UK prosperity in the country and this club will serve as a place to discuss business issues that come up as well as share experiences from working in Laos.
The Embassy hopes to see the British Business Group take off over the next few months offering a place for those UK-based businesses and British citizens working in Laos to collaborate and advise about issues involving working in Laos as well as serve as a networking opportunity for the British business community in the country. The British Business Group, meeting quarterly, will aim to improve the business environment for British investors through raising a regular dialogue with relevant authorities.
British nationals and individuals working for businesses in Laos are invited to attend the group meetings and register your interest with the Embassy.
Check out the British Embassy Vientiane's website for more details about how you or your business can join or get involved.
Further information:
For more information, please contact: Megan Knight (English, French) or Sililuck Simookda (Lao) Phone: +856 30 777 1065 Email: bevienane@gmail.com
Website: UK and Laos
Published 9 April 2013