World news story
First group of Emirati students to join Aberdeen University
UK ambassador receives first group of Emirati students joining medical school at University of Aberdeen in Scotland.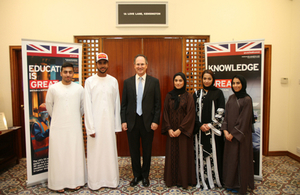 On Wednesday (24 August 2016), the UK ambassador to the United Arab Emirates Philip Parham received at the embassy in Abu Dhabi, the first group of Emirati undergraduate students, who will enrol in the world renowned medical school at the University of Aberdeen in Scotland.
The first group of five Emirati students will be admitted to a custom designed pre-medical year, which upon successful completion, leads directly to a reserved seat on the Bachelor of Medicine programme the following year.
This follows the signing of an MoU last month between the University of Aberdeen and the UAE Embassy in London.
The agreement allows the allocation of five undergraduate places per year exclusively for Emirati students to study for the Bachelor of Medicine degree at the University of Aberdeen, where Medicine has been taught for over 500 years. The students are nominated by the UAE Embassy to the UK.
At the reception, The UK ambassador to the UAE, Philip Parham said:
I am delighted that the University of Aberdeen has been able to develop such a unique partnership with the UAE. This is a further testament to the strong ties between our two countries. The UK has a huge amount to offer the UAE. This academic and medical partnership between the UAE and Aberdeen is set in the context of a relationship which is solid and dynamic, historic and modern. I am very impressed by the students' enthusiasm, ambition and sense of adventure. I wish them all the very best of success, and am sure they will have a rewarding academic experience in Scotland. UK universities are world class: four of the top ten universities in the world are in the UK. We are delighted that the UAE government has chosen Aberdeen Medical School to train a future generation of Emirati doctors.
Listen to the students talk about their reasons for choosing the UK as a study destination and what they are most looking forward to in the UK:
Published 25 August 2016