News story
First CNC course to train firearms instructors in-house finishes successfully
The Civil Nuclear Constabulary (CNC) has become one of only a handful of police forces in the country to be accredited to deliver the national Firearms Instructor's Course.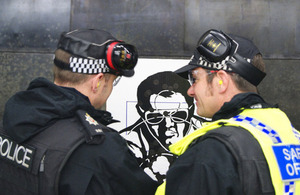 The first ever CNC run National Firearms Instructor Course ended last month, and saw Ch Supt Phil Bishop presenting seven newly qualified National Firearms Instructors (NFIs) with their pass certificates. Three of the seven are already in post, with the remaining four awaiting transfer to the Firearms Training Unit.
Previously if an officer wanted to become a firearms instructor, they were reliant on applying for a place on a nationally run course at Home Office forces across the country which meant officers had to wait for a place to become available.
The officers spent the first three weeks of the course training at Summergrove in Cumbria before travelling to Northumbria for the last part of the course, using both Northumbria Police and MOD firearms facilities as part of their training.
Highlights of the course included a 100% pass rate on the Preparing to Teach in the Life-Long Sector (PTTLLS) element of the training, which was reflected in a very positive report from the awarding body's independent external verifier, and a three-day novice shooter package, designed and ran by CNC candidate instructors, for Northumbria police employees.
The course was also fully signed off and graded as fit for purpose by the College of Policing, who were represented by two members of the National Police Firearms Training Curriculum working group.
Their report highlighted areas of best practice that were being adopted on the course and stated: 'The programme was well documented and all supporting documentation was very comprehensive. The support to the students was good and the relationship between the delivery team and them was very good, there is a genuine desire for the students to do well and the delivery team has a very good cross section of experience to ensure that takes place.'
Planning for the third and fourth courses, due to be ran late this year and early next year, is well underway and course two will start on 6 July.
Deputy Chief Constable Simon Chesterman said: "Firearms training is arguably the highest risk element of police training, consequently the national standards are very demanding. I am proud to say that CNC is now one of only a handful of forces accredited to train police firearms instructors.
"The quality of our training in CNC is outstanding and I would like to congratulate the Firearms Training Unit for their achievements and the newly qualified instructors who have successfully completed this highly challenging course.
Ch Supt Bishop said: "I would like to congratulate our new firearms instructors on their successful completion of this challenging and ground-breaking course. I would also like to thank the Chief Firearms Instructor Ian Kendall and his planning and delivery teams for all their hard work in putting together such a quality training event. This marks a key point in our firearms training and its significance should not be under-estimated."
Published 8 June 2015