Press release
Financial stability in the social housing sector continues - latest quarterly survey published
The social housing sector continues to demonstrate its financial stability, according to the latest quarterly survey.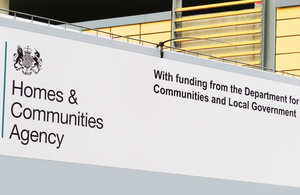 It also has access to sufficient finance, according to the survey (2014 to 2015 quarter 1) published by the Homes and Communities Agency today (20 August 2014). Overall the sector is in a strong position in relation to its future financing needs with £13 billion of undrawn borrowing facilities and £4 billion held in cash.
As the regulator of social housing providers, the HCA undertakes a quarterly survey of housing providers to establish the levels of exposure to a range of risks faced by the sector. This report is based on a survey of all private registered providers owning and/or managing more than 1,000 homes for the quarter ending 30 June 2014.
New facilities arranged in the quarter totalled £1.1 billion. Investors' confidence in the sector was demonstrated by the continued trend towards capital market funding; over half of the new funding came from capital markets including the first long term government guaranteed bond arranged through Affordable Housing Company plc, which raised £180 million for English providers.
Affordable Home Ownership (AHO) sales remained stable with 2,116 sales reported in the quarter. The stock of unsold homes fell to 2,985. There were fewer AHO completions reported in June than in March – the anticipated increased numbers of completions in 2014 to 2015 are yet to be achieved. 1,734 completions were reported this quarter; the 18 month pipeline to 31 December 2015 anticipates a quarterly average of 3,066 units.
This report also includes additional information relating to properties developed for market sale – the forecast pipeline for completions over the next 18 months anticipates a marked increase in activity, averaging 879 homes per quarter.
Mick Warner, HCA Deputy Director of Regulatory Operations, said:
The sector as a whole remains financially strong with £13 billion undrawn borrowing facilities in place. Most of the sector's forecast debt requirement over the next 2 years is to fund development programmes.

The number of unsold AHO and market sales homes fell in the quarter and sales risk is concentrated in relatively few providers. However, pipeline figures for AHO and market sale development in the next 18 months forecast a level of new supply significantly in excess of current sales volumes.

The July announcements, by HCA and GLA of £1.3 billion allocations to deliver over 60,000 new homes, will give providers greater clarity of their future debt requirements.

As regulator, we remind providers to ensure that they secure facilities well in advance of need so that they can meet their financial commitments in an orderly manner.
The latest quarterly survey is available to download from the HCA website.
Published 20 August 2014