Financial services, education and manufacturing companies win UKTI's first ever competition for Indian innovators
The successful companies are: Heckyl Technologies - Mumbai, Foradian Technologies - Bangalore and Silver Bright - Pune.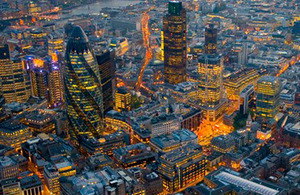 UK Trade & Investment (UKTI) India in association with British Airways and YourStory is happy to announce the winners of the "UKTI Calling India's Most Innovative Companies To Work With The Best of UK" contest launched earlier this year.
The contest, the first ever of its kind by UKTI, was open to innovative companies in India who are looking to scale up globally with the UK as their growth partner. 171 entries were received from companies across India and across sectors. The successful companies are:
Winner: Heckyl Technologies - Mumbai
Heckyl provides real time financial information, news and data analysis, heatmaps, and exclusive coverage of markets, companies and businesses to retail traders and brokerages.
First runner-up: Foradian Technologies – Bangalore
Foradian Technologies is one of the leading providers of web based enterprise software solutions for education institutions across the globe.
Second runner-up: Silver Bright - Pune
Silver Bright's in house technology is used in its manufacturing of Precision Drawn Bright steel bars and ERW/CEW tubes that are very light weight yet strong. These have application in the Automotive and other sectors, reducing weight and contributing to efficiency.
The three companies will be flown to London for a bespoke programme which will include advice and mentoring from specialists who have previously helped Indian companies to globalize; meetings with world-class investors, incubators and potential partner companies; and a visit to 'Tech City' – Europe's most vibrant innovation hub.
The successful companies will be presented their awards by the British Deputy High Commissioner for Western India, Mr Peter Beckingham, at the Queen's Birthday Party to be given by him in Mumbai on 19 June.
Mr. Mukund Mudras, Co-founder & CEO, Heckyl Technologies, said:
Heckyl is extremely happy to be awarded the UKTI Most Innovative Award. We feel privileged to start our dream of going global under the leadership of UKTI in London, the world's financial hub, and we believe that guidance and mentorship extended to us will take our company to the next level in the financial world.
The British High Commissioner in India Sir James Bevan said:
This competition has underlined that India is home to some of the world's most creative minds and innovative companies. I congratulate all the participants on their fresh perspective and determination to do things better. And I offer the winners a warm British welcome to the UK. I am confident they will tap the rich vein of British talent and forge partnerships with real potential to change the way we do things not just in India and the UK, but across the world.
Congratulating the companies, British Deputy High Commissioner Western India Peter Beckingham said:
I am looking forward to felicitating the winning companies in Mumbai next week. The UK prides itself on innovation in many sectors and I am delighted that this contest will help to build our links with cutting-edge companies in India.
Welcoming the results, British Deputy High Commissioner in Bangalore Ian Felton said:
Great to see a Bangalore based company among those leading in showing the way on innovation - a strength of the UK. We are delighted to collaborate with you.
Further Information:
The entries were judged by a panel of UKTI's Sector Specialists in the UK and members of its Inward Investment Teams in India and in the UK. The contest was sponsored by UKTI, in partnership with British Airways and YourStory.in
For further information and to speak to any of the winning companies please contact Grace Ann Lobo at the British Deputy High Commission on +91 22 66502178.
To attend/cover the felicitation of the winning companies please contact Shireen Mistry on +91 9820013629 or Nazneen Sahiar on +91 9833811617.
Marcus Winsley, Director, Press and Communications, British High Commission, Chanakyapuri, New Delhi 110021 Tel: 44192100; Fax: 24192411, Mailto:Harleen.Sachdeva@fco.gov.uk; Follow UKTI India on Twitter Follow UK in India on Twitter
Published 13 June 2013