Press release
Final countdown to better journeys at Dartford
The Dartford Crossing – one of the UK's most recognisable transport landmarks – will change forever this weekend.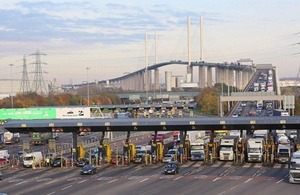 Dart Charge – a new way of paying the crossing charge – will speed up journeys by removing the need to stop at a barrier and give drivers more flexibility about how and when they pay the charge.
From 6am this Sunday (30 November) instead of paying cash at the Crossing drivers will pay online, by phone or post or at one of thousands of retail outlets nationwide. Payment can be made in advance or by midnight the day after crossing.
More than 120,000 Dart Charge accounts have already been set up, covering more than 170,000 vehicles. Each will save up to a third every time they use the Crossing when Dart Charge goes live this Sunday.
Dart Charge project director Nigel Gray said:
This is a big week for the Dartford Crossing – today marks the last Monday before cash payments at the Crossing stop and work to take out the payment booths begins. Better journeys at Dartford really are on the way. I'm very encouraged by the take up we've seen for pre-pay accounts, which will be the easiest and cheapest way to use the Crossing. But plenty more could still benefit, and now's the time to take action.
Setting up a Dart Charge account is quick and simple, taking less than 7 minutes on average, and can be done from virtually any computer, tablet or smartphone. It can also be done by phone or post.
Work to remove the booths and improve the road layout will begin on Friday 28 November - the same weekend the new payment arrangements go live - and will continue until spring 2015.
For more detailed information about the works, including drawings of the planned road layouts, please visit http://www.gov.uk/highways/dartford
General enquiries
Members of the public should contact the Highways Agency Information Line on 0300 123 5000.
Media enquiries
Journalists should contact the Highways Agency press office on 0844 693 1448 and use the menu to speak to the most appropriate press officer.
Published 24 November 2014