World news story
Filipino Paralympians awarded at launching of fun run to celebrate the London 2012 legacy
British Embassy Manila recently hosted the celebration of the London 2012 legacy a year after the opening of the Olympic & Paralympic Games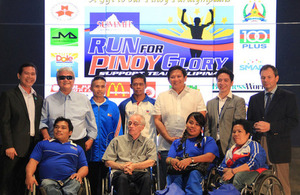 Nine Filipino Paralympians were honoured during the launching of a fun run that coincides with the celebration of the first anniversary of the London 2012 Olympic and Paralympic Games and its legacy.
The Filipinos who competed in the London 2012 Paralympic Games are: Marites Burce (Athletics); Isidro Vildosola (Athletics); Andy Avellana (Athletics); Achelle Guion (Powerlifting) ; Agustin Kitan (Powerlifting); Roger Tapia (Athletics) ; Josephine Medina (Table Tennis); Beariza Ma Roble (Swimming); Adeline Ancheta (Powerlifting).
The third and final leg of the Run for Pinoy Glory series was launched at the third level Atrium of SM Aura Premier on 30 July. The launch was organised by Shadowfax Events in cooperation with the British Embassy, SM Aura Premier and Philippine Sports Association for the Differently-Abled - National Paralympic Committee Philippines (PhilSPADA-NPC Philippines).
Proceeds from the previous fun runs were awarded to the Paralympians through PhilSPADA, which serves as the country's National Paralympic Committee.
A Paralympics legacy photo exhibit was also launched, which highlights the values of diversity, equality and inclusion. The photo exhibit will be shown in SM Aura Premier and selected SM SuperMalls within Metro Manila.
"Run for Pinoy Glory 2013 - A gift to our Filipino Paralympians" will be held on 8 September 2013 at the Camp Aguinaldo Grandstand in Quezon City. The event is organised by Shadowfax Events. Partners include: SM Aura Premier, The Armed Forces of the Philippines (AFP), DLSU-CSB Junior Marketing Association, National Council for Disability Affairs (NCDA), Run Proud Pinoy, Chris Sports, Fitness & Athletics, BusinessWorld, Mellow 94.7 and PhilSPADA-NPC Philippines.
British Embassy Chargé d' Affaires Trevor Lewis said:
I congratulate the nine Filipinos who represented their country in the London 2012 Paralympics. They are shining examples of courage, perseverance and the indomitable spirit – traits that every athlete, whatever their ability, must possess. They are truly a credit to their country and we wish them well today, as we did just over a year ago when they left to compete in London.
We hope that in the near future, para athletes across the globe will receive the same level of support as their able-bodied counterparts. The blueprint of the London 2012 Games is helping push para sports into the mainstream, placing them on equal ground with traditional sporting activities. More importantly, London 2012 has changed attitudes to people with disabilities, focusing on their abilities rather than dwelling on their physical limitations.
Around this time last year the world witnessed a golden summer of sport. The London 2012 Games delivered what it set out to do, an important part of which was promoting our values of inclusion, equality and diversity. We held the most accessible and inclusive Games ever with the Paralympic and Olympic Games planning and organisation being fully integrated from the beginning for the first time. Disability access was incorporated into the design and structure of the buildings, open spaces and public transport and everything was done in consultation with the disability advisory group. Beyond the Paralympics, we opened up disability sport by supporting school children by making disability sport a central part of the School Games.
PhilSPADA-NPC Philippines Chairman Michael Barredo thanked the organisers and said:
We hope that the spirit of the London 2012 Games will carry on to Rio and beyond, giving equal attention to the Olympics and the Paralympics. Para athletes work as hard, or if not even more, as our able-bodied counterparts to give pride to our country, so we hope to see them enjoy the same treatment. We hope that more people will be inspired and continue to support our efforts towards the promotion and development of sports for persons with disabilities and the Paralympic movement.
Shadowfax Events General Manager Lawrence Plata said:
This final leg will again harness the bayanihan spirit to honour our Filipino Paralympians. We are encouraging people from all walks of life – athletes and non-athletes, able-bodies and differently-abled – to join us in support of the Paralympians who inspire and bring glory to the nation. Your participation will certainly boost the morale of our para athletes, to show that there are people out there rooting for their success. Registration for the run will start on 1 August 2013 in selected Chris Sports Outlets and Fitness and Athletics in Bonifacio Global City. There are three categories to choose from: 3K, 5K and 10K.
Published 1 August 2013