World news story
Fifteen envoys feature in 'Say No to Ivory Trade' film
A short film launched where Malawi President and Ambassadors warn citizens, foreign residents and visitors against ivory trade.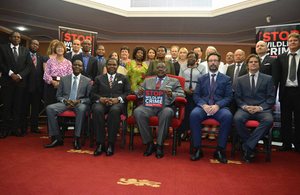 The British High Commissioner, Michael Nevin, and his counterparts from fourteen other foreign missions have joined the Malawi Government in calling on their nationals to protect Malawi's wildlife and fight international wildlife crime, by starring in a short film: "Say no to Ivory Trade."
The film is part of the "Stop Wildlife Crime" campaign, a joint initiative between Malawi's Department of National Parks & Wildlife and Lilongwe Wildlife Trust, funded by the British High Commission.
In it, President Peter Mutharika leads fifteen foreign ambassadors, high commissioners and Honorary Consuls to convey a message to citizens, foreign residents and visitors not to buy ivory products as it is illegal.
Speaking during the film's premiere on Thursday, the British High Commissioner Michael Nevin, speaking on behalf of other diplomatic missions and honorary consuls, commended Malawi for playing her part in an international effort to reverse the decline of so many animal species and to fight against the illegal wildlife trade.
Nevin said development partners are supporting Malawi on this campaign because tackling the illegal wildlife trade is a way to achieve multiple impacts given the connections to corruption and other organised crime. He said:
There is extra international interest in Malawi's efforts because wildlife crime today has become one of the major transnational organized criminal activities, alongside the trafficking of drugs, humans and weapons. It is the greatest threat to the survival of endangered species.

The illegal trade in natural resources is depriving countries like Malawi of billions of dollars in lost revenues and lost development opportunities. And we need to do more outside Africa to address the demand for these products.

Cases of trafficking, selling and buying of wildlife products have involved not only Malawians but a range of nationalities. We, as diplomatic missions, have a responsibility to ensure that our nationals understand that trafficking on any level is a serious crime.
President Peter Mutharika said his government is working hard to combat wildlife crime by strengthening laws, improving law enforcement and increasing inter-agency and cross-border cooperation, among other strategies.
I believe that protection of wildlife needs to be a priority for my Government. We know the stakes if we do not do so: We will lose the wildlife species and biodiversity, and also lose opportunities for economic development through tourism and the associated impacts on agriculture and human health.
You can watch the video here
Published 14 April 2016