News story
Festive feeling coming to Project Servator
Civil Nuclear Police (CNC) officers based at Sellafield get festive at the start of the Project Servator Christmas campaign.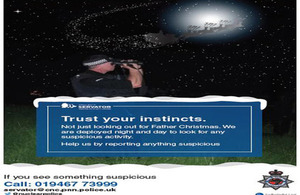 Launched in July this year, Project Servator is an innovative and collaborative approach to policing, which has seen CNC officers working with their local communities to encourage the reporting of suspicious activity. Since the launch 35 businesses have been visited and 463 deployments have taken place in and around Sellafield.
From deployments at train stations to local villages, our officers have received a warm welcome with lots of interest in the project and their role in general.
Supt Graham Shaw, who is the Operational Commander for Sellafield, said: "I am really pleased with the positive response of the community to Project Servator, and we all in the CNC recognise how important our local community is and the information they can provide is integral to the success of Project Servator.
"Our partnership with local businesses and communities is going from strength to strength and our aim is to continue to build on these relationships. The knowledge and awareness that we work so closely with our local community is a great deterrence to any hostile threat to the Sellafield site.
"Our deployments are unpredictable- taking place at any time, day or night. We utilise varying tactics and resources throughout. Our officers will be out and about in the local community over the coming days speaking to residents about our Christmas campaign and which will continue throughout the festive period.
"Remember, trust your instinct and report any suspicious activity directly to the CNC by calling 019467 73999."
Keep up-to-date with Servator deployments, recruitment information or anything CNC by following us on Twitter: @nuclearpolice.
Notes to Editors
If you require any further information, please contact Jane Younger on 019467 80710.
Published 5 December 2016