World news story
FCO Political Director in Lebanon, discusses security
Director General for Political Affairs Richard Moore held meetings in Lebanon with Foreign Minister Bassil, Speaker Berri, and Genenral Abbas Ibrahim.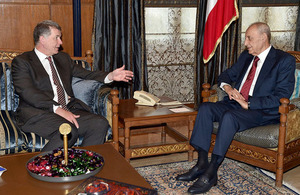 Director General for Political Affairs at the Foreign & Commonwealth Office Richard Moore, visited Lebanon today and met with senior Lebanese politicians and officials. This is his first visit to Lebanon since assuming his role in April 2018.
Mr. Moore, accompanied by British Ambassador to Lebanon Chris Rampling, held meetings with Foreign Minister Gebran Bassil, Speaker Nabih Berri, Director General of General Security Abbas Ibrahim, Director Generals at the Ministry of Foreign Affairs Ghadi Khoury and Hadi Hashem, and senior advisors to Prime Minister Hariri. The discussions focused on local and regional issues pertaining to security and stability.
The Political Director focuses on the UK's key foreign policy objectives and has several areas of responsibility and regions including the Middle East and North Africa.
After the visit, Ambassador Rampling said:
We are pleased to welcome to Lebanon Richard Moore, one of the UK Foreign Ministry's most senior officials. Richard is deeply familiar with the region, and the conversations were constructive and forward-looking.
Published 8 May 2019