FCO minister Tobias Ellwood on first visit to Bahrain
Tobias Ellwood underlines continuing UK support for reform programme in Bahrain and importance of work to improve human rights.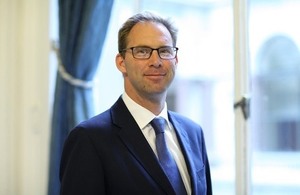 Foreign & Commonwealth Office Minister for the Middle East and North Africa, Tobias Ellwood visited Bahrain for the fifth meeting of the UK-Bahrain Joint Working Group.
Mr Ellwood and H.E Sheikh Khalid, together with officials from Bahrain and the UK, discussed a wide range of bilateral issues, including co-operation on key trade and investment opportunities. They exchanged views on recent political and security developments within the Middle East and agreed to maintain an open dialogue on this. Co-operation and assistance on defence, security and counter-terrorism were also discussed.
The Joint Working Group discussed progress on the implementation of the recommendations of the Bahrain Independent Commission of Inquiry Report (BICI) and UN Human Rights Council Universal Periodic Review (UPR). Steps have been taken to strengthen police accountability and build oversight mechanisms across the criminal justice system, although there is still significant work to be done. The UK remains committed to providing support and practical assistance to Bahrain's reform programme, this will include support on reforms of the youth justice system, court administration and further capacity building for key institutions such as the Ombudsman's office. Commenting at the end of his visit, Mr Ellwood said:
It was a pleasure to make my first visit to Bahrain as Minister for the Middle East and North Africa. I was struck by the warmth of the long-standing friendship between our two countries. During a productive meeting of the Joint Working Group, we agreed that the UK would continue to provide support to Bahrain's ambitious reform programme, with a particular focus on strengthening human rights and the rule of law, where there is still significant work to be done. I am pleased to see that UK expertise is continuing to help to make a real difference.
Published 14 June 2015