News story
Faulty independence plan should be recalled, says Carmichael
Scottish Secretary calls for product recall of Scottish Government White Paper.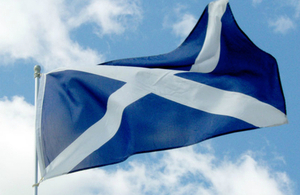 Exactly two months on from publication, the Scottish Government's White Paper has already developed so many faults there should be a product recall, Scottish Secretary Alistair Carmichael said today.
What was described as the most detailed blueprint ever for independence has been shown to be completely inadequate as proposals have either proven to be wrong, beyond the power of an independent Scotland alone or already achievable under devolution.
Scottish Secretary Alistair Carmichael has pointed to at least 12 White Paper commitments that have already unravelled saying "independence is forever but their plans have not made it to February. This White Paper is more of a black mark than a blueprint".
The dozen faulty proposals listed by Mr Carmichael are:
WRONG – inaccurate proposals:
Fiscal – the forecasts for Scotland's fiscal position in 2016-17 fail to take into account any transition costs and are based on forecasts for North Sea oil revenues that were shown to be completely over-optimistic by the independent OBR's Autumn Statement forecasts.

Immigration – the Scotland Analysis paper on Borders and Citizenship makes clear that an independent Scotland could not have a very different immigration policy from the continuing UK and also be part of a Common Travel Area with the continuing UK.

UK Pound – it is not correct to say that a currency union between an independent Scotland and the continuing UK would automatically be in the interests of both. The UK Government has said that a currency union is 'highly unlikely'. And a currency union is not the same as the UK Pound we have now.

EU membership – the Scottish Government assert that an independent Scotland would not have to apply to join the EU, and could have "continued membership" just by amending the existing EU treaties. This is wrong, it has never been done before and the EU Commission and the Spanish Prime Minister have ruled it out.

Tuition fees – experts including academics, former EU Commissioners and politicians have all said it is wrong to say that an independent Scotland could still charge students from the continuing UK. The Scotland Analysis paper on EU and International confirmed this proposal is contrary to EU law.

EU Rebate – the Scottish Government propose to share the UK's EU rebate but that is impossible. If Scotland leaves the UK, the UK's rebate will be recalculated and there will be no Scottish share left. Indeed, like other Member States, an independent Scotland would need to help fund the UK's rebate were it to join the EU.

Scotland's economic growth in recent decades – the Scottish Government claims that Scotland's economy has grown more slowly than other comparable independent European countries in recent decades were undermined by the admission they had airbrushed 2008 out of their analysis. They said the financial crisis of 2008 was too volatile and should not be included, but this is exactly the volatility that a smaller Scottish economy would be even more exposed to under independence.
WANTED – White Paper proposals that needs the agreement of other states:
UK Public bodies - the Scottish Government have said they want to keep using a third of the UK's institutions, including bodies like the Bank of England and the National Lottery. That's not up to them to decide.

Extra CAP payments – what an independent Scotland would receive in direct EU payments would depend on what accession terms it negotiated with 28 Member States. If, after independence, we did not immediately become a EU member state then CAP payments would be suspended.

UK Research Councils - and White Paper wants to maintain the existing system of the UK Research councils and the funding they provide. However, the Scotland Analysis paper on Science and Research states that in the event of a vote in favour of independence, the UK's current research and innovation system would operate in the continuing UK. Although Research Councils do support international projects, they generally only provide funding to researchers in UK institutions taking part in collaborations with international partners. It would be up to an independent Scotland to fund any partners from Scottish institutions.

UK warship contracts – after independence the Scottish Government would like to have the continuing UK place warship contracts in Scotland. The UK Government has made it clear that it does not place contracts for complex warships with other states. Other than procurement activity undertaken during the World Wars, no complex warships for the Royal Navy were constructed outside the UK in the 20th century, and the UK Government remains committed to utilising the strengths of UK industry in this specialist area.
WHY WAIT: White Paper proposals the Scottish Government already has the power to deliver:
Childcare plans – it has been widely accepted that the centre-piece child-care proposals from the Scottish Government's White Paper are already a devolved responsibility of the Scottish Parliament.
Scottish Secretary Alistair Carmichael said:
These are only a dozen of the many proposals in the White Paper that are unravelling within weeks. It is a bit worrying that independence would be forever and these plans have not made it to February. This White Paper is more of a black mark than a blueprint.

The problems I have listed are not minor details, they are the fundamental building blocks of independence. The White Paper is wrong on the UK Pound, wrong on EU membership and wrong to say that childcare needs independence.

The plan for independence has just rolled off the production line but it has already developed so many faults that there should be a product recall.
According to the Trading Standards Institute, 'Product recalls are made by traders about products that have problems which could affect the safety of the user/consumer. The product should not be used and should be returned to the trader'.
Published 27 January 2014