World news story
Family planning in Cameroon: A prelude to the London Summit
A follow-up on the progress and challenges in delivering access to family planning in Cameroon.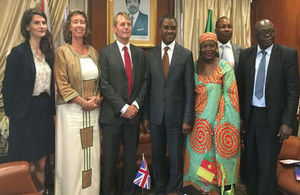 On 27 June 2017, the British High Commission Yaoundé partnered with United Nations Population Fund (UNFPA) in Cameroon and representatives from the Ministry of Public Health to host an event 'Family Planning in Cameroon Today: A Prelude to the 'London Summit'.
Attendees, comprising representatives from across ten diplomatic delegations in Yaoundé, heard about Cameroon's progress since their FP2020 commitment in 2014, as well as ongoing challenges in enabling access to a range of modern contraceptives across the country. Particular challenges highlighted included:
raising awareness and information about family planning methods
addressing cultural barriers to accessing family planning, particularly for adolescents
and reaching women in some of the poorest regions in Cameroon
The British High Commissioner, Brian Olley, later met with Cameroon's Minister of Public Health André Mama Fouda, alongside Dr. Barbara Sow, Representative for UNFPA Cameroon. The discussion covered the key messages arising from the morning's event outlined above and the importance of the FP2020 movement and increasing international commitment at the upcoming Summit on 11 July 2017 in London.
The High Commissioner also underlined the UK's ongoing commitment to supporting women and girls around the world, including in Cameroon, to make informed choices about their future.
Published 5 July 2017