News story
False terror kidnap claim trio to serve an extra 6 years in jail
A West Midlands policeman and his two accomplices who claimed terrorists were going to kidnap a fellow officer were today sentenced to a cumulative 6 extra years in jail.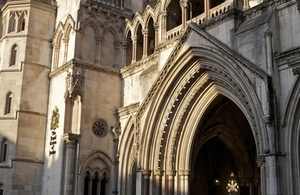 Amar Tasaddiq Hussain, 30, made a hoax 999 call in which he claimed a Muslim officer with the West Midlands force would be kidnapped by someone with links to the so-called Islamic State. Hussain was a serving West Midlands police constable at the time, and was sentenced to 7 years in prison by Stafford Crown Court in May.
Two other Birmingham men, Adil Bashir, 26, and 31-year-old Mohammed Ali Sheikh, were convicted of the same charges of conspiring to pervert the course of justice and were originally each sentenced to 3 years in prison.
The false claims, made in December 2014, led to the West Midlands Police having to implement a force-wide plan to safeguard the health and safety of their officers and families.
However, Attorney General Jeremy Wright QC MP referred these sentences to the Court of Appeal under the Unduly Lenient Sentence scheme, as he believed the original sentences should be replaced with longer terms.
Today, the Court agreed and increased the sentence of Hussain to 9 years' imprisonment and the sentences of both Bashir and Sheikh to 5 years in jail.
Speaking after the hearing, the Attorney General said:
"This hoax sparked a huge police response, coming at a time when the national terrorism threat level was severe. It had a negative effect on all West Midlands employees and their families, causing a great deal of fear and anxiety.
"I'm pleased the Court has agreed this trio should spend longer in prison for their actions."
West Midlands Police Assistant Chief Constable Marcus Beale said:
"The actions of Amar Tasaddiq Hussain and others were absolutely deplorable. In particular Hussain - who was a serving police officer at the time - he not only let down officers and employees of West Midlands Police but also the people of the West Midlands. I welcome these extended sentences for Hussain, Bashir and Sheikh."
Published 29 September 2016
Last updated 29 September 2016
+ show all updates
Updated Amar Tasaddiq Hussain's age
First published.