World news story
Falklands sportsmen and women celebrate success
Guernsey and Bermuda games success marked with reception at Government House.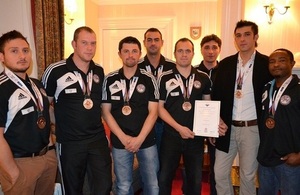 The acting governor has welcomed Falklands athletes home, congratulating them on their recent performances in international sporting competitions.
Competitors from the 'Guernsey Games', an archery competition hosted by the Channel island, and the NatWest Island Games in Bermuda celebrated their sporting achievements at the reception held at Government House.
The archers performed particularly well, participating in their first international competition since the Falklands Archery Association was formed just two years ago, picking up a team bronze, an individual gold and an individual bronze in Guernsey. In Bermuda the Falklands football team gained a bronze medal and picked up the competition's Small Islands Cup.
Acting governor, Sandra Tyler-Haywood, paid tribute to the Falklands sportsmen and women. She said, "I've been really impressed with what I've heard from my colleagues in Bermuda, on the way the Falkland Islands team members conducted themselves. You were all excellent ambassadors for the Falklands and there are more people that understand and appreciate more about the islands than they did before. You were very much respected for taking part and in the way you conducted yourselves."
She added that she looked forward to seeing the Falkland Islands flag flying at the Commonwealth Games in Glasgow next year.
Published 30 August 2013