World news story
Falklands MLA takes self-determination message down under
Mike Summers MLA visits Australia and New Zealand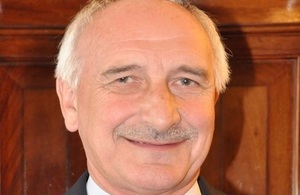 The Honourable Mike Summers MLA of the Legislative Assembly of the Falkland Islands visited New Zealand and Australia this month as part of a regional tour.
MLA Summers is one of the eight elected members of the Legislative Assembly and holds one of the five seats of the Stanley constituency. In addition, he is one of the three members of the Executive Council.
In Melbourne, Australia MLA Summers gave media interviews and paid a visit to the Victorian Parliament before delivering the keynote speech at the Australian Institute of International Affairs. Read the UK High Commissioner's blog about MLA Summers' visit to Australia here.
While in Wellington, New Zealand MLA Summers met with local politicians, academics and members of the community with an affiliation to the Falkland Islands. MLA Summers also made a public speech on the Falkland Islanders' right to self-determination and visited Palmerston North Boys High School to pay respects to a former student who was killed in action during the 1982 Falklands Conflict.
Published 31 January 2014