World news story
Falklands athletes head to Island Games in Bermuda
Islanders to compete in six sporting disciplines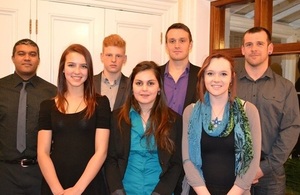 Falkland Islands sportsmen and women have begun arriving in Bermuda, where they will compete in the 2013 NatWest Island Games.
They will attend the opening ceremony on 12 July before focusing in athletics, football, swimming, shooting, golf and badminton.
Before leaving the Falklands for their long journey to the Caribbean, the athletes were guests of honour at a reception hosted by the governor.
Chairman of the Falkland Islands Overseas Games Association, Mike Summers, said he was delighted by the number of young people in the team, with nine members of the squad aged under 18.
It had been a challenge to put the team together, he said, because Bermuda was an expensive place to get to and, therefore, the support of the Falkland Islands Government and the Islands' commercial sector had been appreciated. Some sponsors had specifically supported young athletes, including the governor whose project fund provided backing for two young athletes to attend the games.
Mr Summers said he hoped the competitors would enjoy their experience in Bermuda: "You'll have a fantastic time. Competing for your country, you can't do anything better. When you get there do the very best you can and enjoy it."
Published 8 July 2013