World news story
Falklands acting governor joins Goose Green commemoration
Wreaths laid in remembrance of Lt Nick Taylor, British serviceman shot down at Goose Green in the early days of the Falklands conflict.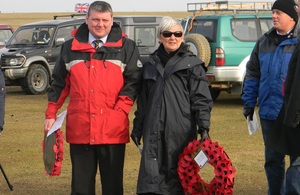 Acting Governor Sandra Tyler-Haywood has joined members of the Falkland Islands community in commemorating the death of Naval Air Squadron pilot Lt Nicholas Taylor.
Lt Taylor died when his aircraft was shot down over Goose Green during the 1982 conflict. He is buried near the East Falklands settlement and every year past and present residents of Goose Green, many of whom were incarcerated in the settlement's community hall during the conflict, gather at his grave.
After prayers Mrs Tyler-Haywood laid a wreath on behalf of Her Majesty the Queen. Wreaths were also laid by representatives of a number of organisations including the Falkland Islands Government and the people of Goose Green.
Mrs Tyler-Haywood described the service as "moving" and said it had been a privilege to join the residents of Goose Green on such a poignant occasion.
Published 8 May 2013