World news story
Falkland Islanders elect new Legislative Assembly
Two new faces in Legislative Assembly line-up as Falkland Islands hold general election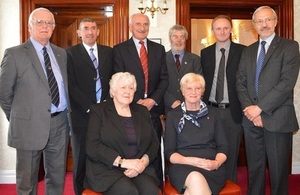 The new Legislative Assembly of the Falkland Islands has been announced following a general election which concluded on Thursday 7th November.
The Falkland Islands is a self-governing Overseas Territory of the United Kingdom and holds a general election every four years. Six members of the former assembly were returned and were joined by two new members. Jan Cheek, Barry Elsby, Michael Poole, Gavin Short and Mike Summers were elected by the Stanley constituency and the Camp constituency will be represented by Phyl Rendell, Roger Edwards and Ian Hansen.
The Members of Legislative Assembly (MLAs) swore their Executive Council oaths at Government House before embarking on their four-year term as elected representatives.
This election was an important moment in the Falkland Islands' history, as, following a report on roles and remuneration of MLAs prepared earlier this year, it was the first time elected members were appointed into full-time, paid positions. A spokesperson for the Falkland Islands Government said, "This change reflects the way in which the role of an MLA has developed in recent years, and is indicative of the democratic and political growth of the Falkland Islands."
Published 8 November 2013