Press release
'Fake name' fisherman tracked down by bailiff for fishing in Somerton without rod licence
Somerset fisherman who gave a false name when asked to produce his rod licence is tracked down and fined.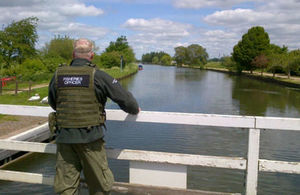 Angler Darryl Bushen didn't hang around after he was caught fishing at a Somerset lake without a rod licence.
The flighty fisherman was approached by an Environment Agency bailiff at the Viaduct Fishery, Somerton. When asked to produce his rod licence, Bushen said 'It's at home', so the officer asked for his name and address. The angler said his name was 'Barry Brown.'
The bailiff moved a short distance away to get a better phone signal to check Bushen's details. It was at this point the angler made his exit. When the officer returned to the lakeside, the defendant had gone leaving two fishing rods on the bank and lines in the water.
A friend fishing nearby said Bushen had gone to the site shop, but when the bailiff checked, there was no sign of the angler. The friend later rang Bushen and told him the bailiff would seize his fishing equipment if he didn't return. Bushen refused and his fishing tackle, worth several hundred pounds, was seized.
Subsequent checks revealed the angler seen fishing was Darryl Bushen, of Selworthy Road, Weston-super-Mare.
Bushen was fined a total of £300 by Yeovil magistrates and ordered to pay £127 costs after pleading guilty to three offences including fishing at Viaduct Fishery, Somerton, without a valid rod licence, failing to state his name to a water bailiff and leaving a rod and line with baited hook in the water unattended. He was also ordered to pay a £20 victim surcharge.
The offences were committed on October 4, 2015. The case was heard on June 9, 2016.
It is easy to buy a rod licence. You can purchase online, in person or by phone from the Post Office. Tel 0344 800 5386, or yearly direct debit with the Environment Agency. Tel 03708 506 506 or email enquiries@environment-agency.gov.uk. It costs £27 for a non-migratory trout and coarse fish licence or £72 for a salmon and sea trout licence. An annual licence runs from April 1 – March 31.
Published 1 July 2016