World news story
Extending space for everyone in Macedonia
British Embassy supports programme to strengthen the development of inclusive policies and improve social cohesion in Macedonia.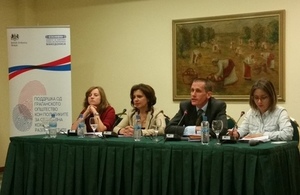 Giving voice to the vulnerable groups in the society will be the driving force of the programme we launched today. The Helsinki Committee of Human Rights in Macedonia will be running it until end of March 2018 with the support of the British Embassy.
Speaking at the event our ambassador Charles Garrett said:
Disability, marginalisation, inclusiveness and diversity are everyone's story. A society which understands that not everyone is the same, which makes allowances for those who need them, which doesn't hide some of its members away, will be a society that is more confident and stronger. As part of our partnership with Macedonia the British Embassy will support the Helsinki Committee in a running a programme that would support Macedonian institutions and civil society in increasing inclusivity in the society.
Director of the Helsinki Committee Uranija Pirovska stressed:
Through this project we want to give voice to the invisible in our society, marginalized and socially excluded groups and communities. The objective is to improve policies and practices for social cohesion and to improve access to justice for vulnerable groups through strategic litigation in cases of discrimination.
Neda Chalovska, legal adviser at the Helsinki Committee said:
Access to justice, especially in cases of discrimination is almost impossible for the vulnerable groups in our society that are often found in social risk. Because of this, we want to give support to citizens who for various reasons are unable to exercise or protect their rights. Legal support will particularly focus on cases in which we will note that there is systemic discrimination against certain vulnerable group.
Support within the programme is targeted at people with physical and intellectual disabilities, women in rural areas and Roma. Anyone that has a story to tell can contact the Helsinki Committee of Human Rights in Macedonia.
British Embassy Skopje runs a range of programme assistance in Macedonia providing support in several reform areas with judiciary, human rights, democracy, social cohesion, public finance management, strengthening civil society and media. You can find more information about our programme assistance here.
Connect with us on Facebook and @ukinmacedonia
Connect with the British Ambassador on Facebook and @BritAmbCGarrett
Read our blog UK in Macedonia
Published 27 September 2016