News story
Exporting success
Building Scottish export success is a priority for UK Government says Alistair Carmichael.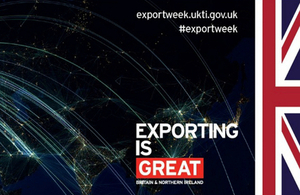 Helping more Scottish businesses follow in the footsteps of one of Scotland's export success stories is a priority for the UK Government, the Scottish Secretary Alistair Carmichael said today.
The Minister made the comments as he visited Diageo's bottling plant in Leven, Fife. Opened in 1973 the bottling plant supplies all Diageo's main markets across the globe.
The visit took place during UK Export Week. Across the country there is a series of events aimed at businesses to either start their export journey or increase their international business. This year UKTI increased the number of businesses it supported by 50% to almost 48,000 businesses. The vast majority of these firms were small businesses.
On his visit the Minister met the management team and took a tour of their new bottling hall - an £86m investment by Diageo that was opened two years ago.
Mr Carmichael said:
The drinks industry and of course whisky is one of our great export success stories, it employs many people through the supply chain here in Fife and many more across Scotland.

The UK's vast trade and consular network opens many doors for Scottish companies. Last year the UK Government through UKTI helped nearly 2000 Scottish businesses trade with other countries last year. Through Export Week we want that to grow even more creating more export success stories. Our ambition to raise UK exports to £1 trillion and to get more Scottish companies of all sizes exporting.
David Light, Operations Director at the Diageo Leven Packaging Plant, said:
We are very proud to produce a range of Diageo's leading brands at Leven and to export them to markets all around the world.

During his visit the Secretary of State of State has seen Scotch whisky being packaged for key export to markets including China, Singapore, Venezuela and the United States, which is the biggest export market for products from Leven. Support for exports is crucial to our business so we were delighted to welcome Mr Carmichael and to show him the contribution that our people here in Fife make to UK exports.
Earlier in the day, Mr Carmichael saw how the UK Government's long term economic plan is helping businesses in Fife grow and getting more people into work.
The Minister visited BRAG Enterprises in Lochgelly a social enterprise. Formed 25 years ago initially to retrain ex-miners and encourage the creation of new businesses, it now specialises in working with "hard to reach" individuals, helping them to secure meaningful employment. BRAG also chair The Fife Employability and Training Consortium comprising 7 third sector organisations, collectively working across Fife to help individuals secure employment.
During his visit the Minister met the management and some of the people who are benefiting from their work. He said:
BRAG is a good example of a social enterprise doing great work and helping people get on in life. Working at the heart of the community they are providing a route for people from disadvantaged circumstances to get into long term sustainable jobs, helping communities and the economy of Fife in the process.

This year we have seen record Scottish employment, more Scottish women in work than ever before and hundreds of people coming off jobseekers allowance. This is encouraging and shows our long terms economic plan is working but we know there is much more to do.
The Minister also visited Ladybank to meet deer farmer Bob Prentice. Mr Prentice recently received funding from RBS to support his farm and his plans for expansion which includes plans to diversify their business. The intention is to encourage other farmers to think about rearing deer as a means of diversifying their businesses.
Mr Carmichael added:
In 2010 when the Coalition Government came into office, getting people into work and getting banks' lending to small businesses formed cornerstones to our long term economic plan.

Four years on we are beginning to see what can be done when banks and places like Downfield Farm work together. They have exciting plans for the years ahead which can now be realised with access to finance. Their growth and expansion is good news for Fife and good news for the agricultural sector in Scotland.
Published 11 November 2014