News story
Expenditure and revenue figures
Government Expenditure & Revenue Scotland 2013-14 shows Scottish borrowing higher than UK average.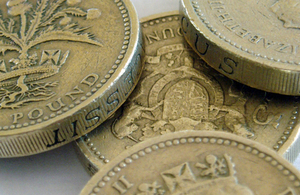 The Government Expenditure and Revenue Scotland (GERS) 2013-14, which estimates expenditure and revenue balances relating to the Public Sector in Scotland, was published today.
Key points of today's figures include:
In 2013-14 Scotland contributed 8.6% of UK tax (£10,100 for every person in Scotland) and received 9.2% of UK spending (£12,500 for every person in Scotland)
This means in 2013-14 each person in Scotland received around £2,300 more in spending than they contributed in tax. This rounded figure comes from Scottish spending per head (£12,500) minus tax per head (£10,100)
Scotland has received more spending per head than the UK for each of the past 30 years
In 2013-14, each person in Scotland received £1,200 more in spending than people in the rest of the UK, while contributing £400 person extra tax (including a geographic share of North Sea tax)
Scotland's borrowing was therefore around £800 per head higher than the UK
In response to today's figures, Chief Secretary to the Treasury Danny Alexander said:
Today's figures show that Scotland's borrowing was £800 per head higher than the UK average last year: that's £800 more that an independent Scotland would have to tax every man, woman and child. They've also nearly doubled the 2012-13 figure from £500 per head to £900, meaning that their own estimates were dangerously wrong throughout the referendum campaign.

And while lower oil prices this year support our economy and help household budgets, they will further increase this gap – as the Governor of the BoE has recently highlighted, this is another clear reminder that Scotland is much better off sharing risks and resources as part of the UK.
Scottish Secretary Alistair Carmichael said:
Today's figures from the Scottish Government put the case for remaining in the UK beyond all doubt. It is concrete proof that Scotland's public spending is protected and receives secure and stable levels of funding, alongside the ability to absorb economic shocks more effectively.

These figures are based on a high oil price of over $100 rather than the current price, emphasising the need for us to pool our risk and resources in the future. The benefits include the £2.3 billion in extra spending the Scottish Government has received above and beyond its budget since 2010.

Today's figures will force the long overdue retirement of a number of economic myths used by those who argue for Scotland leaving the UK. There is no way to avoid these hard facts and attempting to do so would simply be irresponsible.
Published 11 March 2015