News story
Events in March
Come and see the Crown Commercial Service at events in March.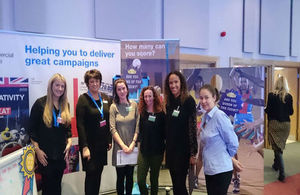 The Crown Commercial Service (CCS) are attending 3 events throughout March so if you have any queries, or you'd simply like to find out more about what we do, then come and meet us at:
Public Sector ICT Summit, London, 1 March
The fifth annual Public Sector ICT Summit will enable digital, technology and data leaders to shape the debate about the future of Government policy.
CCS's Commercial Delivery Director, Matt Denham, will be presenting at the event and discussing how we're developing commercial acumen and ensuring our agreements are accessible to small businesses. For further information or to register for the Public Sector ICT Summit visit the Public Sector ICT Summit website
Procurex North Live 2016, Manchester, 8 March
Procurex North Live 2016 is the must-attend event for buyers and suppliers, who are engaged directly or indirectly with the public procurement process.
CCS colleagues will be available in the pavilion, at the centre of the exhibition, to answer any questions. And our Chief Executive, Sally Collier, will be giving a 30 minute presentation on integrated public sector procurement. For further information or to register for Procurex North Live visit the Procurex North Live website
THINK Cloud for Government, London, 22 March
This conference provides an in depth look at the cloud strategy, including how it operates alongside the Digital Services Framework and explores the challenges of working against a shifting backdrop of traditional IT services.
CCS will be available throughout the day to answer your questions and explain more about what we do. For further information or to register at THINK Cloud for Government visit the Think Cloud for Government website
Published 22 January 2016