News story
Europe lofts first Copernicus environmental satellite
The ability of European citizens, policymakers and service providers to access key environmental data on a routine basis will take a major step forward following the launch last night (03 April 2014) of the Sentinel-1A satellite.
The 2.3 tonne satellite lifted off on a Soyuz rocket from Europe's Spaceport in Kourou, French Guiana at 9:02pm GMT (11:02pm CEST).
The European Space Agency's Sentinels, a new fleet of Earth observation satellites, are poised to deliver the wealth of data and imagery that are central to the EU's Copernicus programme.
UK involvement in Copernicus is through the Department for Environment, Food and Rural Affairs (Defra), whilst the UK Space Agency provides UK investment in the Sentinel satellites.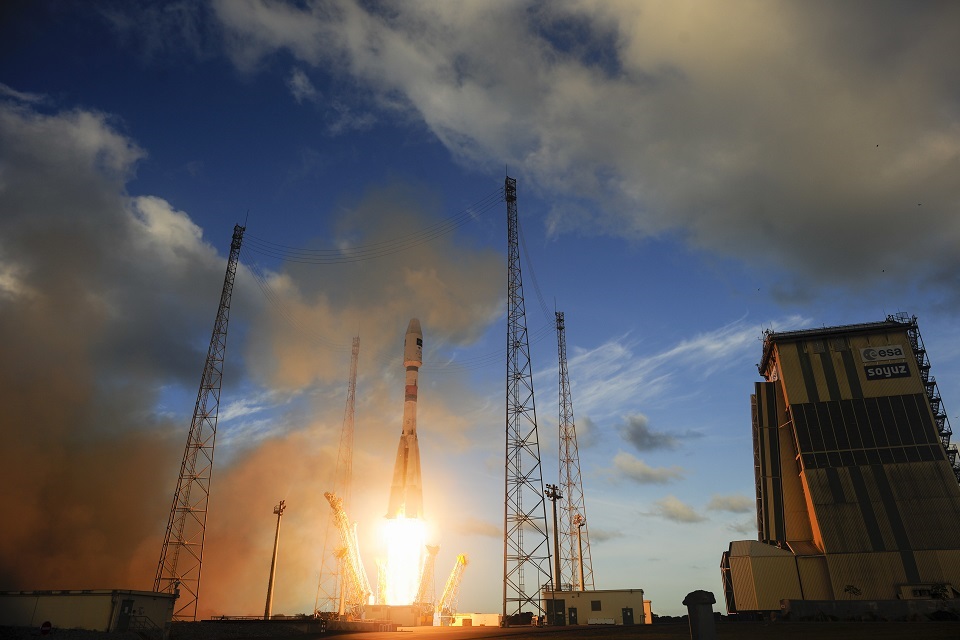 By offering a set of key information services for a broad range of applications, the Copernicus global monitoring programme is a step change in the way we manage our environment, understand and tackle the effects of climate change, and safeguard everyday lives.
Apart from the government and academic uses, first time business users will have access to a wide array of up to date and accurate satellite data and imagery for free. It is hoped that the free and open data policy will drive a vastly increased uptake in the use of space generated data.
Environment Minister Lord de Mauley, said:
"The valuable data from this satellite will deliver a wide range of benefits for the UK through improved flood forecasting, building greater productivity and efficiency within the agricultural industry and helping monitor biodiversity across Europe better.
"The data from Copernicus also presents great opportunities for businesses to build products, such as maps and information services for the public and private sectors, helping create many new high skilled jobs over the coming years."
The first in the series, Sentinel-1A, carries an advanced radar to provide an all-weather, day-and-night supply of imagery of Earth's surface. The heart of the radar, the Integrated Central Electronics package, was supplied by the UK arm of Airbus Defence and Space (formerly Astrium) and is one of the most advanced units of its type in the world.
Dr David Parker, Chief Executive of the UK Space Agency, said:
"This launch marks a new era in Earth observation. Once in orbit, the Sentinel constellation will deliver data for a broad range of services that will allow us to better manage our environment."
As a future constellation of two satellites (Sentinel-1A and -1B), the mission will scan every place on Earth every 6 days and will transmit data to ground stations around the world for rapid dissemination.
The mission will benefit numerous services. For example, services that relate to the monitoring of Arctic sea-ice extent, routine sea-ice mapping, surveillance of the marine environment, including oil-spill monitoring and ship detection for maritime security, monitoring land surface for motion risks, mapping for forest, water and soil management, and mapping to support humanitarian aid and crisis situations. It is also designed for responding rapidly to aid emergencies and disasters such as flooding and earthquakes.
Sentinel-1 is the result of close collaboration between ESA, the European Commission, industry, service providers and data users, including the UK government. Designed and built by a consortium of around 60 companies led by Thales Alenia Space and Airbus Defence and Space, it is an outstanding example of Europe's technological excellence.
Published 4 April 2014