World news story
EU statement on development priorities at Round Table Meeting
From:

Part of:

Published:

15 November 2013

Last updated:

21 November 2013, see all updates
This was published under the 2010 to 2015 Conservative and Liberal Democrat coalition government
In expectation of next week's Round Table Meeting, the EU Development Partners have issued a joint statement.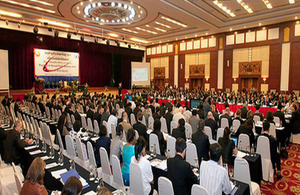 On 18 November, Ambassador Malone will participate in the 11th Round Table Meeting, a high-level dialogue on Official Development Assistance between the Lao government, Development Partners and other related stakeholders. This meeting is a platform to assess aid effectiveness, led by the government of the Lao PDR and co-chaired by the United Nations Development Programme.
Strategic development planning and alignment with national priorities and objectives will be discussed during the meeting. The goal is to assess progress on implementation of the 7th National Socio-Economic Development Plan.
In preparation for the Round Table Meeting, the EU Development Partners have met several times to discuss their joint statement which will be presented to the government at the meeting.
Ambassador Malone said:
As one of the most important development partners for Lao PDR, the EU statement is a key contribution to the Round Table discussion. There are several important points we stress in our statement. Good governance and the role of civil society, human rights, accelerating progress to achieve the Millennium Development goals, fiscal discipline and accountability, efficient land use and sustainable development are key concerns for the EU.
European development partners have committed approximately USD 550 million in support of the implementation of the Government's 7th National Socio-Economic Development Plan. This represents over 30 percent of Official Development Assistance received by the Government to date.
Read the European Development Partners' Statement here:
PDF, 39.8KB, 7 pages
This file may not be suitable for users of assistive technology. Request an accessible format.
If you use assistive technology (such as a screen reader) and need a version of this document in a more accessible format, please email govuk-feedback@digital.cabinet-office.gov.uk. Please tell us what format you need. It will help us if you say what assistive technology you use.
The statement's Lao version:
For additional information on the National Round Table Process, please visit http://www.rtm.org.la
Outcomes of the 11th Round Table Meeting, posted by UNDP Lao PDR.
Document information
Published: 15 November 2013
Updated: 21 November 2013
EU Development Partners statement for the Round Table Meeting attached. Text amended with link to Outcomes of the Round Table Meeting.
First published.