World news story
EU Referendum: British Embassy Statement
Official statement by the British Embassy Vientiane represented by James Toone, Deputy Head of Mission on Monday, 27 June: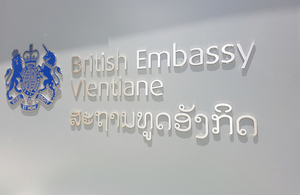 "The people of the United Kingdom have decided to chart a new future for our country outside the political institutions of the European Union. As the UK Prime Minister David Cameron said in his statement on Friday, there can be no doubt about the result and the will of the British people must be respected.
The UK Government's immediate priorities are for stability and clarity, although many questions may not have answers at this stage. As the Prime Minister said, the government will seek to steady the ship and then hand the reins of power to a new leadership in autumn to begin the formal process of negotiating with the European Union. This negotiation process and implementation will take months and years.
The UK's relationship with our European neighbours is going to change - within Europe but also abroad. But the British Embassy Vientiane is determined to uphold the close cooperation with EU countries and the EU commission in Laos, given similar interests and priorities including the promotion of Human Rights, establishing Good Governance and supporting the country's economic development.
Whilst there is uncertainty ahead there's also a lot that is known. The UK remains a country of 65 million diverse and talented people - a multi racial and multi faith democracy. We will continue to be a top 10 world economy, outward oriented, innovative and committed to a rules based international system. We will remain a G20 country, a G7 nation, a Permanent Member of the UN Security Council, a member of NATO; and the only country in the world committed to spending 2% of GDP on defense and 0.7% GNI on development assistance.
We are ranked 2nd in the world for soft power. London remains the world's leading financial centre, sat between the U.S. and Asian time zones. We continue to have some of the best universities in the world, some of the best cutting-edge research, innovation and design, a world beating creative industries and some of the most efficient and competitive manufacturing capabilities. Not to forget a star studded English Premier League football season ahead.
The UK will continue to be engaged in Southeast Asia, the most dynamic region in the global economy. UK-Lao relations will continue to prosper and the UK will continue to be committed to building a close relationship with Laos. The UK reopened its mission to Laos in 2012 and has this year celebrated the opening of its brand-new embassy in Vientiane - a strong signal of our long-term commitment to further developing Lao-UK relations. Over the past year we have started to craft a "Creative Partnership" between our two countries. This partnership builds on closer political dialogue, support to Lao education and English learning efforts, increasing investment and trade-links, as well as improving good governance and the rule of law.
Alongside this Creative Partnership, more and more British and Lao businesses are building close partnerships. In the past year we have seen major UK investments and projects for example by Prudential Life Insurance or the InterContinental Hotel Group. The number of Lao studying in the UK is rapidly growing, and the UK has more than doubled its Chevening Scholarship positions for Lao students. The number of Lao tourists to the UK is steadily expanding and in return we again welcomed more than 40,000 British tourists to Laos in 2015, making it the second largest visitor group from Europe and Western countries. To further deepen these multifaceted links between the UK and Laos, the British Embassy will continue its work as a creative partner for the Lao people and its government."
Published 28 June 2016