World news story
EU Assistance for Macedonia on State Aid Policy
EU funded twinning project on state aid completed in Macedonia with UK assistance.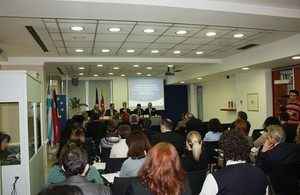 Enhancing state aid policy in support of the Macedonian Commission for Protection of Competition and its partners, on the basis of EU regulations and best practice, was the goal of a project completed with a closing ceremony in Skopje on 29 January.
Closure of the project was marked at a ceremony with Aivo Orav Head of EU Delegation, Fatmir Besimi, Deputy Prime Minister for European Affairs, British Ambassador Christopher Yvon, the President of the Commission for Protection of Competition Blagoj Churlinov and Graham Branton, Director of the UK Department for Business, Innovation and Skills. The results of the project were presented by the Resident Twinning Advisor Chris Kirby.
In remarks at the closing ceremony, Ambassador Christopher Yvon said:
Our project involvement underlines the UK's long and lasting support for Macedonia's eventual EU membership. State aid policy is a complex area in that it requires the right balance between policies which can lead to over-protectionism in the market and the need for certain forms of state support which allow the free market to flourish and competition to prosper. I am pleased that the UK Department of Business, Innovation and Skills was able to offer such extensive expertise in this area and that the UK was a partner of choice.
The European Union funded the twinning project as part of the process of preparation of Macedonia for future EU membership and strengthening its capacities to help authorities meet obligations in state aid compliance. The project was implemented by the United Kingdom's Department of Business and Innovation and Skills (BIS) and in partnership with the Office for the Protection of Competition of the Czech Republic, supported with 1 million Euros of EU funds over the period April 2012 – January 2014.
Published 29 January 2014