Press release
Essential maintenance at Stroud Road Brookthorpe Bridge M5 near Gloucester
Essential maintenance work at Stroud Road Brookthorpe Bridge on M5 between Junctions 11a and 12 will require narrow lanes on both carriageways from Monday, March 24.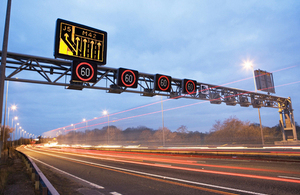 Road users are also advised that a 50 mph speed limit will also be in place for the safety of workers and road users on a half mile section around the bridge, which is situated near Gloucester.
The work, which involves strengthening the foundations of the bridge, is being undertaken as part of a comprehensive package of bridge safety improvements and maintenance to benefit road users on the M5 near Gloucester.
Project sponsor, Dave Frampton said:
We are really pleased with the progress of this comprehensive programme so far, which is essential to prolong the life of the bridges.

While we appreciate it is a very full programme we have been able to significantly reduce disruption to road users by undertaking a number of schemes at the same time.
The foundations of three bridges, including Stroud Road Brookthorpe Bridge, have been attacked by thaumasite, which is a severe form of sulphate attack and can reduce affected concrete to a soft crumbly material - to find out more watch this video. A number of bridges in the Gloucester area are known to suffer from this and the Highways Agency is managing the repair of these over a number of years.
The work on these three bridges includes exposing the foundations and repairing the areas affected by thaumasite. To keep the bridges safe during the work, extra support will be installed to the bridge decks.
This is the third bridge to be worked on in an 18 month programme. While extensive work is needed to the bridge foundations the scheme has been planned carefully so that all three lanes can be kept open in both directions at all times.
Work on the four bridges between Junctions 10 and 12 will continue until March 2015 and includes strengthening work on the foundations of three bridges and a deck replacement, resurfacing and waterproofing on the fourth bridge.
The first phase of the programme began in January with work to replace the bridge deck at Gloucester Painswick Bridge between junctions 11a and 12.
A contraflow arrangement is in place until the end of March with two lanes northbound and southbound in operation. Work on Staverton Hayden Bridge between junctions 10 and 11 started at the beginning of March.
More details will be publicised when further works start on Piffs Elm Bridge between Junction 10 and 11 at the end of March. Members of the public can find out more about the scheme by visiting the Highways Agency website or via the Facebook page.
General enquiries
Members of the public should contact the Highways Agency Information Line on 0300 123 5000
Media enquiries
Journalists should contact the Highways Agency press office on 0844 693 1448 and use the menu to speak to the most appropriate press officer
Published 12 March 2014