Press release
ESSAR fined £497,284 for environmental offences in Cheshire
ESSAR Oil (UK) Limited, who operate Stanlow Oil Refinery in Ellesmere Port, pleaded guilty to 3 breaches of their environmental permit.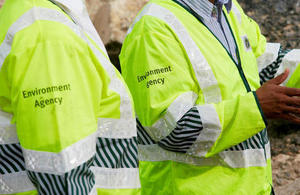 The company was sentenced on Tuesday 27 October 2015 at Chester Crown Court following a prosecution brought by the Environment Agency. They were fined £497,284 and ordered to pay costs of £40,000 in relation to 2 separate incidents which occurred in 2012.
On 31 July 2012 the roof of an oil storage tank failed under pressure at Stanlow Oil Refinery. This caused a plume of steam and oil to be released into the atmosphere and fine droplets of oil were reported over an area approximately 5.3 kilomentre in length and 0.8 kilometre in width. At its furthest point, gravestones were affected at Overpool Cemetery, together with local businesses and vehicles which required cleaning. The incident resulted in a large number of complaints and the company incurred significant clean-up costs.
In a separate incident on 19 August 2012 approximately 5 tonnes of oil entered the Manchester Ship Canal following failures in the operation of ESSAR's effluent management system. As a result of the incident, the Manchester Ship Canal was closed for 2 days to all shipping traffic whilst an extensive clean-up operation was carried out.
HHJ Shetty, the sentencing Judge, concluded that:
"In my judgement this fine will achieve the statutory purpose. The penalty is not only proportionate and just, but will bring home to the management and shareholders the need to protect the environment."
Nigel Glasgow for the Environment Agency said:
"These pollution incidents were significant events resulting in large numbers of complaints and clean up costs for ESSAR. Permit breaches of this nature are taken seriously by regulators and the courts. Since these incidents the Environment Agency has worked closely with ESSAR who have improved their environmental performance and we look forward to their continued co-operation.
"The public can report environmental incidents to the Environment Agency on 0800 80 70 60."
Published 29 October 2015