Eric Pickles predicts public service shake up as community budgets begin
Local areas having a single pot of funding to spend on local problems are key to the future for public services and spending, Local Government…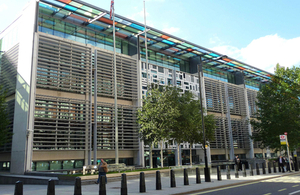 Local areas having a single pot of funding to spend on local problems are key to the future for public services and spending, Local Government Secretary Eric Pickles said today.
Mr Pickles confirmed at a conference on Community Budgets today that the first 16 pioneers would be up and running come the 1st April 2011. The first Community Budgets pool and align various national and local funding strands into a single local funding pot for tackling social problems around families with complex needs.
The most troubled families can cost central and local agencies up to £330,000 a year. Children from these families are much more likely to excluded from school, taken into care or get into trouble with the police. Their parents are often affected by drug and alcohol problems, domestic violence and poor housing. The first 16 Community Budgets pilots will look to bring local agencies together to get straight to the heart of the problems facing some of the country's most chaotic families. They expect to help at least 10,000 families by 2015.
Mr Pickles said that communities need to be trusted with their own money to target their own problems. He confirmed that work would continue to develop bigger Community Budgets that cover more local public spending and more problems as part of the Coalition Government's plans to restore financial independence to local communities. The second phase of the Local Government Resource Review, commencing this month, will focus on broadening community budgets as they continue to be rolled out across the country.
Mr Pickles said:
It's about time Whitehall started trusting local communities. And local agencies started trusting each other. What better way to make services work together than by putting all the money in one place? A single pot of local funding that can be targeted straight at the frontline.

Until now money from the centre has always come with strict caveats. At Whitehall we are going to step back and let local councils and agencies get re-animated about local problems. With Community Budgets we want to get as close as possible to the idea that councils and local areas should get a single pot of local funding from Government to spend as they see fit.

My message to local areas is don't be afraid to think big. To be as bold and as innovative as you can. This is the future for public services. If we can get 16 areas up and running in less than six months think what we can achieve moving forward.

I want all areas to be able to tackle problem families and other key local priorities through community budgets from 2013. For too long we've handed out pocket money to local agencies and told them how to spend like an overbearing parent. It's time to let local areas grow up and do things their way.
Mr Pickles said the Government would continue to break down barriers and deliver the flexibilities local areas needed to deliver their ambitions. The first Community Budgets will be able to focus on all issues faced by families rather than treat each one in isolation by pooling local resources and know how. The council, local police, social services, Job centres, schools and housing groups will work together as one so families are no longer bounced between a myriad of programmes and professionals.
In the Islington pilot, where almost half of local children live in poverty, local agencies will pool over £6 million of resources and staff to provide intensive support. A new Family Outreach Support Service will be able to support a thousand families at any one time giving them one point of contact.
Swindon have already brought together professionals from the housing sector, the police, the NHS and adults' and children's services to work intensively with 12 families with persistent problems. They believe this work could save over £1.5 million in two years. Swindon's Community Budget now aims to reach 350 families by 2015 by increasing the reach of this programme.
This approach is part of the overall re-design of public services in Swindon as they plan to reduce costs by 26 per cent by 2014.
Ministers believe Community Budgets will help drive down overhead costs by removing the bureaucratic financial restrictions that have generated waste and duplication in public spending. Local areas will be able to redesign and integrate frontline services across organisations and share management functions to reduce running costs for the best local outcomes.
Notes to editor
The 16 pilot Community Budgets are:
Birmingham
Blackburn with Darwen
Blackpool
Bradford
Essex
Greater Manchester (a group of 10 councils)
Hull
Kent
Leicestershire
Lincolnshire
London Borough of Barnet
London Borough of Croydon
London Borough of Islington
London Borough of Lewisham
The London Boroughs of Westminster, Hammersmith and Fulham, Royal Borough of Kensington and Chelsea and Wandsworth
Swindon
Twitter
Keep up to date with the Department by following us on Twitter (external link).
Media enquiries
Visit our newsroom contacts page for media enquiry contact details.
Published 29 March 2011