World news story
Eric Pickles' meeting with the Indian Minister for Minorities
The Secretary of State for the Department for Communities and Local Government, Eric Pickles, met the Indian Minister for Minorities, Mr K Rahman Khan on Monday 17 June.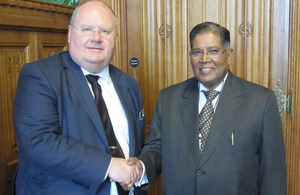 The meeting was an excellent opportunity for the two Ministers to share best practice between the UK and India on tackling discrimination and improving cross-faith dialogue and social action.
The Secretary of State spoke to Mr Khan about the positive contribution of minority communities who work together towards common goals, how the UK tackles discrimination and how we are working to build strong, confident communities who can challenge and marginalise extremism.
Across the UK, people from different faiths are working hard in countless churches, mosques, temples, gurdwaras and synagogues, and in charities and community groups to build effective relationships with one another and to improve their local communities.
The UK Government recognises the important role of faith in public life and supports and funds projects to strengthen co-operation between those of different faiths and none. For example, Near Neighbours is a £5million programme that aims to bring together people from diverse communities and different faiths to get to know each other better and help them improve their local neighbourhoods.
The two also discussed Indian interest in establishing an equal opportunities Commission. The two Ministers agreed to strengthen co-operation between both countries on issues of mutual interest.
Follow UK in India on Twitter
Published 17 June 2013