Eric Pickles calls for greater town hall transparency
New research suggests councils could be overpaying by as much as £150 million a year.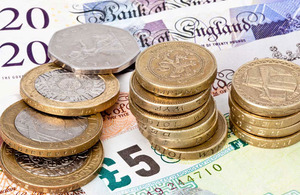 An examination of town hall books that reveals councils could be wasting nearly £150 million on duplicate payments betrays a lack of respect towards public money, the Communities and Local Government Secretary Eric Pickles has argued.
A project between Leeds City Council and credit experts Experian recovered £500,000 in overpayments to suppliers. Internal auditing by the London Borough of Islington that involved checking invoices to their top 30 suppliers revealed that 10 had been paid twice and 2 more paid 3 times. The overpayments totalled £55,000.
Experian estimates that if more councils were to repeat this simple exercise, up to £147 million could be saved.
In a speech ahead of the government's Spending Review the Secretary of State used the data to highlight concerns that councils are effectively "letting money slip through their fingers". He said that the very process of publishing spending over £500 online would help stop duplicate payments and stressed that the need for councils to "show us the money" was more important than ever.
Referring to the estimated savings, Mr Pickles said:
Now, you might say well, that is small potatoes. Hardly enough to plug the gaping holes in the public deficit. But actually, £147 million would pay the wages of nearly 9,000 care workers. And more importantly, it betrays a particular attitude. A lack of respect towards public money. And at every level of government, that has got to change.
Mr Pickles used the speech to send a clear message to public servants that they must not forget whose money they are spending and made clear that the "days of throwing money at problems are over".
He reiterated that transparency, productivity and innovation must be the watchwords for the way councils do their business from here onwards.
Underlining his commitment to localism, he said that the years of government micromanaging were over and that councils would be put back in charge of their own money.
Published 14 October 2010