World news story
Entry clearance assistant needed at the embassy in Santiago
The British Embassy in Santiago is recruiting a full-time entry clearance assistant; the starting date of the position is on 17 June 2013.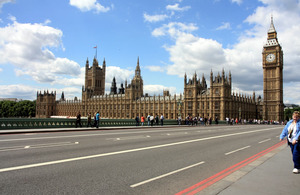 Role
To provide a high quality, professional, consistent and efficient visa service.
Duties include
Receive and process UK visa applications submitted in Santiago, Chile.
Collection of visa applications, fees and associated documentation, risk assessment of each application
Management of the on-line appointment system and capture of biometrics data
Dispatch of applications
Contact applicants for collection of visa decisions
Assist the Visa Manager in the issuance of UK Overseas Territories and Commonwealth visa applications
Liaison with the hub in Rio de Janeiro and participation in conferences both in person and by telephone
Essential Requirements
An excellent command of spoken and written English and Spanish
Have a high standard of working ethics
Customer focused, good problem solver, good at managing expectations and courteous
Strong IT skills
Highly organised, ability to work to tight deadlines and prioritise accordingly
A self-starter, confident and capable of working on own initiative, remain calm under pressure , being able to work under constant supervision
Adaptability, flexibility and patience
Able to take full responsibility for maintaining own performance and to take responsibility for actions
Preparedness to travel and deploy at short notice to other visa sections in the region
Being able and willing to learn a wide variety of Visa regulations and standards operations procedures
Full validity passport
Core Hours
36 hrs per week. Monday to Thursday 9am – 5.30pm with a 30 minute lunch break. Friday 9am – 1pm. Full training will be provided.
Holiday Entitlement
18 days.
Salary
$841,474 Chilean pesos (gross salary.)
Employment is subject to a 12 month fixed contract with the possibility of renewing for a permanent contract. Access to a medical scheme and other benefits are available after signing this second contract.
If interested please send a CV and a brief letter explaining eligibility to the position (in English) to: Head of Consular Section, Embajada Británica, Avenida el Bosque Norte 0125, Las Condes, Santiago.
Envelopes should be marked "Application for Entry Clearance Assistant."
Closing date: Wednesday 15 May 2013 (before 5pm.)
Job starting date: 17 June 2013.
If you are selected for interview we will call you by 17 May 2013.
Only shortlisted candidates will be notified.
Published 2 May 2013