World news story
Entrepreneurial Spirit: the new businesswomen of Tokmok
HM Ambassador meets women's self-help groups in northern Kyrgyzstan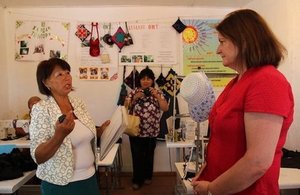 On 6 August HM Ambassador Judith Farnworth travelled to the remote village of Alchaluu near Tokmok to learn about the activities of women's self-help groups. She met representatives of "Alchaluu" and "Meerim", two of twelve such groups in the area created with "Erayim", an NGO established by women for women to address the socio-economic needs of people living in suburban and rural areas across Kyrgyzstan.
Erayim's network of self-help groups have secured grants and microcredits from several international organisations to fund small businesses and create employment opportunities in deprived areas. The women of Alchaluu described to the Ambassador how this has provided them with better prospects against the backdrop of a steady economic decline in the rural areas of Kyrgyzstan. The women explained how Erayim had given their sewing cooperatives support and advice in accounting, business planning and marketing. Their products ranged from bedding to children's school garments to traditional hand-made felt souvenirs. According to "Erayim" representatives, the women strove to keep up with seasonal trends, offering sought-after products at competitive prices. The women had become skilled at winning orders and tailoring their offer to suit Bishkek retailers.
The Ambassador was interested to learn about some of the other – indirect – benefits of participation in the self-help groups. The women reported greater self-confidence, stronger leadership skills and more empowerment to take responsibility for their own lives and their families'. Ambitions included plans to renovate the village's derelict "House of Culture" to provide cultural and educational space for the villagers. Overall, the Ambassador was told, the introduction of these self-help groups had brought the community closer together.
The Ambassador thanked the groups for their warm hospitality, congratulated them on their achievements and commended their dedication to improving the lives of their families and the broader community. She noted that the British government was supporting a range of activities in Kyrgyzstan to support efforts to tackle problems at community level.
Published 13 August 2013