World news story
Enhancing oversight of the Judicial Council in Macedonia
British Embassy supports cooperation between civil society and the judiciary to increase visibility of quality control in the judiciary.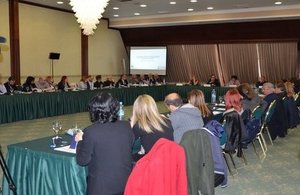 The debate on improving quality in the judiciary should never stop. That was the main message at the launch of the first monitoring report about the work of the Judicial Council of Macedonia. The report is part of the programme support we are providing to civil society in Macedonia.
Over a year and a half Macedonia's Institute for Human Rights will cooperate with the Judicial Council of Macedonia in overseeing its work. It will produce assessment reports about its work, and provide information to increase public understanding of how this body works and its role in quality control of the judiciary.
The programme will involve broader cooperation between civil society and the Judicial Council of Macedonia, judges and judicial administration, legal practitioners. Success in this will be beneficial to the citizens of Macedonia who will gain stronger understanding of the role of judicial bodies and how the judiciary delivers for them as citizens.
Our Ambassador Charles Garrett said:
Sometimes we need new legislation, sometimes new institutional structures or processes. Sometimes it is about individuals simply doing what they know they should be doing in their work. But wherever we find an improvement that will contribute to Justice being done and being seen to be done, then we should implement it.
The Judicial Council is immensely important for a credible and efficient judiciary. You don't need me to tell you that, but it is worth repeating. The Council is responsible for quality control of the work of the judges. And it helps protect judges against undue pressure from politicians, businesses, and powerful individuals or corporations.
I believe that this programme can help the Judicial Council achieve its aims. I see it as a two-way process between the Institute for Human Rights and the Judicial Council itself. If it works properly, it should produce good cooperation and stronger communication between civil society, experts and judges. That is in everyone's interests.
He also underlined that the UK was providing support to this programme because rule of law and judiciary was at the core of our work in supporting Macedonia. Over the past two decades, the UK has partnered Macedonia in its reforms and capacity building. Through our policy and programme work in that time we have worked with diverse actors, state and non-state, civil society, academia and media.
The British Embassy Skopje runs a range of programme assistance in Macedonia providing support in reform areas such as the judiciary, human rights, democracy, social cohesion, public finance management, strengthening civil society and media. You can find more information about our programme assistance here.
Connect with us on Facebook and @ukinmacedonia
Connect with the British Ambassador on Facebook and @BritAmbCGarrett
Read our blog UK in Macedonia
Published 17 March 2017