World news story
English language teacher wins trip to the UK
Ambassador Fletcher held a ceremony to hand out the prizes to winners of the 'Culture is Great' competition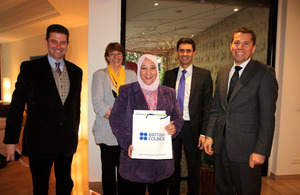 British Ambassador Tom Fletcher held a ceremony at his residence in Yarze to handover prizes to the winners of the 'Culture is GREAT' lesson planning competition, run by the British Council with the sponsorship of the British Educational Trust in Lebanon (BETiL). Present were the winners, their families, British Council Lebanon Director Barbara Hewitt, and BETiL board members.
The first prize went to Fatmeh Awdeh, an English Language supervisor for UNRWA in north Lebanon. In her lesson plan, she created an innovative reading lesson based on comparing national dishes of Britain and Lebanon. It was inspired by an idea from the free British Council website for teachers of English.
Addressing the winner, Ambassador Fletcher said:
I'm delighted that Fatmeh has won this award, for her innovative ideas on English lessons based on the national dishes of the UK and Lebanon. Curry and tabbouleh might not be a natural combination. But when they come together to help those learning English, they can be pretty powerful. I'm sure that those who started the BETiL Trust would approve.
British Council Director Barbara Hewitt said:
This competition is all about the creativity and cultural diversity that teachers of English in Lebanon strive to incorporate into their classrooms. This is reflected in these highly original lesson plans, which I am sure will enrich and broaden students' English language learning.
Fatmeh won an all-expenses paid trip to the UK - offered by the BETiL - to attend the annual conference of the International Association for Teachers of English as a Foreign Language (IATEFL) in Liverpool, in April 2013. She will have the opportunity to attend presentations and workshops led by internationally-renowned English language experts and to network with over 1,500 English language professionals from all over the world.
The two runner-ups Nadine Jaafarawi and Claudia Hassan won English language teaching resource books and a year's IATEFL membership.
Further information
The purpose of the BETiL is to develop further educational links between Britain and Lebanon through the implementation of UK/Lebanese educational projects, with the help of the British Council. Since 2006 BETiL has sponsored one Master's student and a number of English language and teacher training courses.
The competition, aimed at private and public school teachers of English in Lebanon, was launched at a British Council World Teachers' Day quiz, held in October 2012. Over 100 teachers came together to celebrate the work of teachers of English in Lebanon.
Published 7 March 2013