Engineering feat opens door to Sellafield clean-up progress
One of Sellafield's most hazardous buildings is a step closer to being cleaned up after a mammoth engineering task was completed.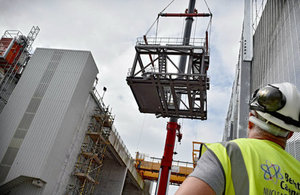 The Pile Fuel Cladding Silo, which dates back to the 1940s, is one of the most difficult tasks in the Nuclear Decommissioning Authority's (NDA) nationwide nuclear clean-up programme.
Nuclear waste was tipped into the building during the very earliest days of Sellafield, when the site's purpose was to create material to make weapons.
But no plans were drawn up for how future generations would take out the waste when the building was at the end of its life.
That point is now fast approaching, so Sellafield Ltd decommissioning experts have designed a process to safely clear out the material – from what amounts to a locked vault.
And the first crucial step has now been completed with the installation of a massive 40-tonne, 9-metre wide steel door frame on the side of the building.
This will allow doors to be hung, behind which holes will be cut so the waste can be safely pulled out by retrieval machines.
Gary Snow, head of the silo decommissioning programme for Sellafield Ltd, said:
Hanging a door might sound like a simple DIY job. But when that door is being hung on a nuclear storage facility, you need more than your average toolbox.

It has taken years of planning, testing and specialist engineering to design, build and position this crucial part of the retrievals mission. It's the most visible sign yet of the retrievals equipment starting to take shape on the new superstructure.
Pete Lutwyche, the NDA's Sellafield programme director, said:
This marks a massive step in one of the highest priority nuclear clean-up jobs in the UK. The difficulty of lifting such an enormous piece of steel on one of the most congested nuclear sites in the world cannot be underestimated.

This milestone is yet another sign that we are making real, tangible process towards clearing away the hazards from the UK's early nuclear industry and making the UK a safer place as a result.
Published 9 May 2016