World news story
Engaging with the start-up ecosystem in Kolkata
British Deputy High Commission Kolkata organised an interactive session with local stakeholders on Friday, 25 November 2016.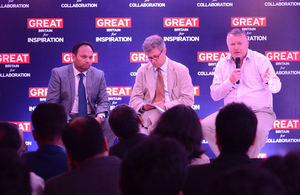 The session was aimed at understanding how UK could collaborate with and inspire further the development of the start-up ecosystem in Kolkata.
Bruce Bucknell, British Deputy High Commissioner Kolkata moderated the panel discussion, with Martin Garratt, Chief Executive of Cambridge Cleantech and Karthik Durgaprasad, Senior International Development Officer of Basildon Borough Council as panellists.
The audience included investors, start-ups and early stage companies, representatives from institutional incubators and private sector accelerators.
The panellists who had earlier spent one and a half days in Kolkata conducting a workshop had comparative insights to share with the diverse audience. For a country which is now recognised as the third biggest hub of tech start-ups in the world, the hard infrastructure seems to be already in place in India. The challenge was in connecting the dots with the soft infrastructure. The panellists emphasised on the need to have full time professional leadership for the incubators, especially for the academically-led ones. The start-ups shared the challenges they faced in commercialising ideas and prototypes. The panellists at this point suggested the formation of a city based collective ('Kolkata plc') which would act as a regular connecting node between business 'ideas' and 'capital'. A section of the audience who had exposure to the UK ecosystem shared their admiration for UK's capability for innovation and called for greater collaboration with India given the maturity of its networks.
For media enquiries, please email Sandip Chaudhuri.
Follow us on Twitter, Facebook, Flickr, Storify, Eventbrite, Blogs, Foursquare, Youtube, Instagram, Vine, Snapchat @UKinIndia, Periscope @UKinIndia
Document information
Published: 28 November 2016