News story
End of an era: UK's role in European Rosetta mission now complete
ESA's historic mission concluded as planned, with a controlled impact onto the comet it had investigated for over two years.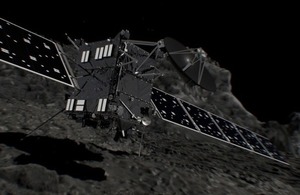 Confirmation of the end of the mission arrived at ESA's control centre in Darmstadt, Germany at 11:19 GMT with the loss of Rosetta's signal upon impact.
Rosetta carried out its final manoeuvre last night at 20:50 GMT (22:50 CEST), setting it on a collision course with the comet from an altitude of about 19 km. Rosetta had targeted a region on the small lobe of Comet 67P/Churyumov–Gerasimenko, close to a region of active pits in the Ma'at region.
Visit the ESA website for the full press release.
Rosetta and the UK
With funding from the UK Space Agency, Rosetta was a mission with significant UK involvement. UK scientists are involved in ten of the 21 experiments that Rosetta carried out during its mission:
the Open University lead the team for the Ptolemy instrument on the lander
Armagh Observatory are helping to analyse the results from the OSIRIS instrument
Imperial College London and University College London's Mullard Space Science Laboratory (MSSL) supply the team studying the comet's plasma
scientists at Oxford University are part of the science team for VIRTIS
Queen Mary College at the University of London will be investigating the results of the CONSERT instrument Industry involvement
The following UK companies have been involved in the mission:
Airbus Defence and Space, based in Stevenage, was the major subcontractor for the Rosetta platform
e2v, based in Chelmsford, designed and supplied the high performance imaging devices used in the Navigation Camera, OSIRIS narrow field and wide field cameras and VITRIS-M instruments on the orbiter and ROLIS and CIVA instruments on the lander
the Science & Technology Facilities Council (STFC) Rutherford Appleton Laboratory managed to reduce a lab full of chemistry equipment to enable it to fit into a space the size of a shoebox
SciSys UK Ltd was responsible for the spacecraft Mission Control System development and maintenance; in recognition of this work on the Rosetta and the Beagle 2 missions, SciSys were awarded the title of "Innovator of the Year" by the UK Computing Awards for Excellence 2004
VEGA Group plc was involved in many aspects of the Rosetta mission, from the overall design of the spacecraft to the on board software technology created by Logica (now CGI) helped to explore some of the issues involved in such a long mission, the company was also involved in the development of the Rosetta on board software
AEA Battery Systems Limited provided innovative batteries for the spacecraft and lander. These are smaller, lighter and much more reliable than the traditional nickel-cadmium batteries
AEA Technology, European Space Tribology Laboratory (ESTL) developed the Micro-Imaging Dust Analysis System (MIDAS)
Polyflex Space Ltd provided tanks to store the helium used by the lander
Surrey Satellite Technology Limited (SSTL) designed a wheel that stabilised the probe as it descended and landed on the comet
Published 30 September 2016