World news story
Emerging Leadership Summit in Delhi next week
The Emerging Leadership Summit will take place at the India International Centre on 13 September.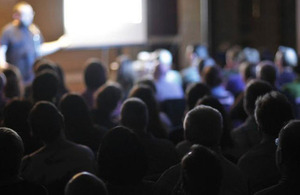 Renowned environment expert Dr Ashok Khosla will join distinguished academics and activists from India and the UK to discuss new approaches to global challenges at an emerging leadership summit in New Delhi next week.
The Emerging Leadership Summit, which takes place at the India International Centre on 13 September, is being organised by the Gates Cambridge Alumni Association (GCAA). The Gates Cambridge Scholarship programme is one of the most prestigious in the world and is awarded to international postgraduate students at the University of Cambridge with outstanding academic and leadership skills and a commitment to improving the lives of others. The Scholarship programme was established in 2000 through a donation of US$210m from the Bill and Melinda Gates Foundation to the University of Cambridge - the largest ever single donation to a UK university.
The keynote speaker at the summit is Dr Khosla, an alumnus of both Cambridge and Harvard, who is co-president of the Club of Rome, a World Future Council member, Chairman of Development Alternatives, sits on the Indian government's Scientific Advisory Council and is the Recipient of the United Nation's Sasakawa Environment Prize (equivalent to the Environment Nobel).
Guest of Honour is Professor Sir Leszek Borysiewicz, Gates Cambridge Trustee and Vice-Chancellor of the University of Cambridge who is on a two-week visit to India.
Other speakers include Dr Puneet Dewan from the Bill & Melinda Gates Foundation; Andrew Soper, Counsellor, Prosperity British High Commission; Rahul Nayar, Adviser to the Indian Prime Minister as well as two Gates Cambridge Alumni, Professor Mohita Bhatia and Professor M.S Raghavendra. Also attending are representatives from the Ministry of Human Resources and Development and from international NGOs.
Professor Bhatia, who did a PhD in Social and Political Science at the University of Cambridge on the social and human impact of the Kashmir conflict, is Assistant Professor at the School of Social Sciences of Jawaharlal Nehru University. Professor Raghavendra, who did his PhD in Architecture, teaches at the Administrative Staff College of India.
The event aims to help generate fresh insights on global challenges, including sustainable development, environmental protection, social exclusion and development in India, development and governance and urban infrastructure. It will also highlight ongoing Indo-UK partnerships.
Gates Cambridge Alumnus Vijay Kanuru, GCAA board member, founder and CEO of Applied Nanomaterials Pvt Ltd and a senior consultant of Cambridge Innovation Consulting, is the Executive Chairman of the organising committee and initiator of the event. He said:
I hope this summit will not only facilitate intellectual collisions and fosters the like minded collaborations but will engender new ideas and sparks inspiration to act on these global issues. In an increasingly interdependent globalised world underpinned by modern economy and IT revolution the political barriers are blurring. Energy security Healthcare care, Environment, Infrastructure, Social Development and Governance are the concerns of every citizen of the globe. I call this an era of interdependence and cooperation. I hope this interdependency can be leveraged to create united and better world, which is the founding spirit of the Gates Cambridge Scholarship.
Another alumnus Sushil Saigal, who is chairing the session and has just completed his PhD in Geography, stated:
The aim of this event is to provide a platform to emerging leaders in different fields to share their ideas. It is hoped that this event will act as a catalyst for a long-term interaction among a network of young and dynamic leaders that could potentially result in interdisciplinary solutions to the multifarious challenges facing our society.
Journalists wishing to attend the event need to register at tim.holt@admin.cam.ac.uk.
| | |
| --- | --- |
| Friday 13.9.2013 | Venue: Seminar Hall 2, India International Centre, New Delhi |
| 5:30 - 5:55pm | Snacks and refreshments |
| 5:55 - 6:00pm | Welcome and Introduction Dr. Vijay Kanuru, Board of Directors, GCAA; Chief Innovation & Strategy Officer, Techno Color Corporation & Senior Consultant, Cambridge Innovation Consulting |
| 6:00-6:05pm | Session Inauguration Mr. Andrew Soper, Counsellor, British High Commission, New Delhi |
| 6:05-6:15pm | Chief Guest - Sustainable Development & Leadership Dr. Ashok Khosla, President of the Club of Rome, Chairman of Development Alternatives, World Future Council, Member of National Security Advisory Board, Govt of India's Science Advisory Council member to Cabinet |
| 6:15-6:25pm | Keynote Speaker- Global Health & Poverty Alleviation Dr. Puneet Dewan, Bill & Melinda Gates Foundation, Medical Officer at WHO & Advisory board, Global Alliance for TB Drug Development |
| 6:25-7:15pm | Emerging Leaders Session (three short presentations followed by Q&A) Session Chair: Dr. Sushil Saigal, GCAA Regional Coordinator New Delhi, Institutional Development & Governance Advisor, Forest-PLUS Program; Social development: Dr. Mohita Bhatia, Professor of Social Sciences, Jawaharlal Nehru University, New Delhi; Urban infrastructure: Dr. M.S Raghavendra, Professor of Infrastructure and Development, Administrative Staff College of India, Hyderabad; Governance & Development: Mr. Rahul Nayar, Consultant, Office of the Adviser to the Prime Minister of India, New Delhi |
| 7:15 -7:20 pm | Closing remarks by Guest of Honour Professor Sir Leszek Borysiewicz, Gates Cambridge Trustee and Vice-Chancellor, University of Cambridge |
Media Contact: Tim Holt, Head of Communications, University of Cambridge +44 7824 835223
Published 6 September 2013